Next-Generation iPhone Components Compared to Previous Models
Following up on a fresh leak of claimed next-generation iPhone parts, Nowhereelse.fr now shares [Google translation] new photos from the same source that provide an interesting comparison between several of the new components and their predecessors found in the iPhone 4S and iPhone 4.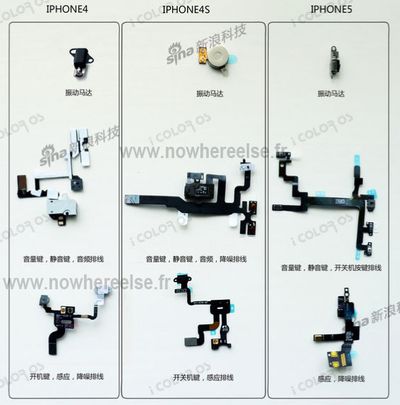 As shown in the top row, Apple appears to be returning to the rotational electric motor design for the vibrator that was used in the GSM iPhone 4 and earlier devices. In the CDMA iPhone 4 and the iPhone 4S, Apple has been using a larger drum-shaped linear oscillating vibrator that gives a softer feel and sound.
Apple's flex cable designs have also continued to evolve through the generations, with the company tending to group components on cables by function and physical proximity. With the move of the headphone jack to the bottom of the device and tweaks to the camera and sensor arrangements, it appears that Apple has in some respects been able to simplify its cable designs.


The second row of parts shows how Apple has modified the design of the volume control cable over time. While the part previously included the volume control button/mute switch assembly and the headphone jack, with the headphone jack having moved to the bottom of the device the cable now stretches across the device to also contain the power switch, consolidating all of the exterior button and switch functionalities on a single cable.
In previous iPhones, the power switch was included on the sensor cable, which also contained both the proximity sensor and the ambient light sensor, as shown in the third row of parts. But with the power switch now having been moved over to the volume control cable, the sensor cable has been simplified.
Not shown in these photos is the headphone jack and dock connector part. That part was one of the first to leak back in May, but the dock connector was initially misidentified as the earpiece before it was discovered that the headphone jack would actually be located on the bottom of the next-generation iPhone.