New Photos of Claimed Next-Generation iPhone Parts Include Display Shield
French site Nowhereelse.fr points [Google translation] to several new photos of what are claimed to be parts for the next-generation iPhone. While a number of the parts are similar to those that have previously been seen, including a SIM card tray leaked earlier this week that appears to have come from the same company, one notable addition in the lower left of today's photos is what appears to be the protection shield that will attach to the back of the new iPhone's larger 4-inch display.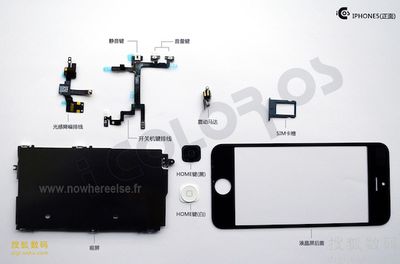 Other parts include the home buttons and front panel that have been seen a number of times previously, as well as flex cables for the device's sensors and external buttons and switches at the top left of the photos.