Apple Moving to In-House Mapping Service with 3D Views in iOS 6?
9to5Mac reports that Apple will moving away from Google Maps services in iOS 6, making the transition to an in-house mapping service that included 3D views. According to the report, Apple's prior acquisitions of mapping companies Placebase and Poly9 are ready to bear fruit, with last year's purchase of 3D mapping firm C3 Technologies rounding out the suite of services.
The most important aspect of the new Maps application is a powerful new 3D mode. The 3D mode does not come enabled by default, but users simply need to click a 3D button that is conveniently and visibly stored in the app. Perhaps under the fold like the current traffic, pin, and map view buttons. This 3D mode is said to essentially be technology straight from C3 Technologies: beautiful, realisitic graphics based on de-classified missile target algorithms.
Apple's in-house mapping services will otherwise be rather similar in appearance to the current Google Maps application, although Apple's implementation is said to be a "much cleaner, faster, and more reliable experience" and will include a new icon based on the same view of the company's Infinite Loop headquarters in Cupertino but with new colors and styling.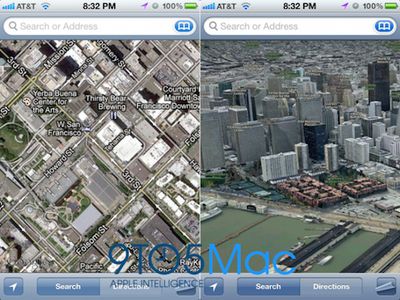 Current Google Maps aerial view (left) compared with mockup of Apple's 3D mapping mode (right)
Apple has clearly been working for some time to reduce its reliance on Google by developing its own mapping services for iOS, as evidenced by its acquisitions of mapping expertise and
job postings
addressing its ambitions for mapping. The company has already
moved location services in-house
and revealed last year that it is building a
crowd-sourced traffic database
based on users' GPS data.
With the release of iPhoto for iOS back in early March, Apple took its first big step outside of the actual Google mapping services, taking advantage of OpenStreetMap and other services to generate its own map tiles for the application's Photo Journals feature.
Apple is expected to preview iOS 6 at next month's Worldwide Developers Conference in San Francisco, with the operating system presumably making its public debut alongside new iPhone hardware later in the year.
Update: AllThingsD says that it has independently confirmed the claim.
We've independently confirmed that this is indeed the case. Sources describe the new Maps app as a forthcoming tent-pole feature of iOS that will, in the words of one, "blow your head off." I'm not quite sure what that means, and the source in question declined to elaborate, but it's likely a reference to the photorealistic 3-D mapping tech Apple acquired when it purchased C3 Technologies.