Apple Hints at Future Turn-by-Turn GPS Directions With Traffic for iPhone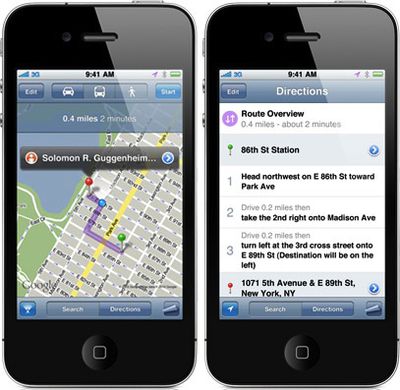 As part of its Q&A regarding location tracking
posted earlier today
, Apple discloses that it is currently collecting "anonymous traffic data" from users' devices with the aim of providing an "improved traffic experience in the next couple of years".
What other location data is Apple collecting from the iPhone besides crowd-sourced Wi-Fi hotspot and cell tower data?
Apple is now collecting anonymous traffic data to build a crowd-sourced traffic database with the goal of providing iPhone users an improved traffic service in the next couple of years.
That traffic experience would presumably be built on top of a turn-by-turn navigation system separate from the Maps application included in iOS and driven by Google.
In November 2009, an Apple job posting described an iPhone engineering position that would help take Maps "to the next level". The company followed that up last December, with a set of four job listings seeking iOS engineers with experience in developing navigation software, further fueling speculation that Apple is working on its own navigation system.
On a broader scale, Apple has increasingly looked to beef up its own mapping and geolocation services in an attempt to distance itself from Google, which has provided the core Maps application for the iPhone since the device's 2007 debut. Apple acquired mapping company Placebase in July 2009 and followed that up by purchasing small Canadian mapping firm Poly9 one year later. Apple also moved its location services for iOS in-house with the release of iOS 3.2 on the iPad in April 2010, separating itself from Google and Skyhook Wireless for such services.
Google has offered free turn-by-turn navigation on Android since late 2009 and had hinted at that time that it could bring the service to iOS, although the company later backpedaled from those claims.