New iPad 3 Front Glass Photos Show Black and White Options, Home Button
Last week, a photo of what was claimed to be the front glass and digitizer assembly for the iPad 3 appeared on Chinese microblogging site Sina Weibo. While the part appears nearly identical to the version found on the iPad 2, differences in the ribbon cable attached to the component indicate that is indeed a different part.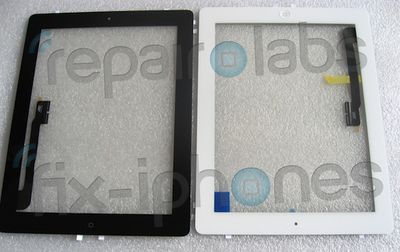 Repair Labs has now gotten its hands on on what appears to be the same part in both black and white, suggesting that Apple will indeed offer at least some models of the iPad 3 in both colors. There had been some suggestion from leaked part numbers that at least one model of the iPad 3 may come only in one color, but additional part numbers later surfaced to indicate that both colors will indeed be available on all models.


As with the previous photo of the claimed iPad 3 front glass and digitizer, the new photo clearly shows home buttons on both parts. Presuming that the parts are legitimate, the photos should hopefully reduce the wild speculation that Apple's media event invitations revealed an iPad 3 lacking a home button.
Apple's media event is scheduled for next Wednesday, March 7 at 10:00 AM Pacific Time at the Yerba Buena Center for the Arts in San Francisco. The company is expected to introduce the iPad 3, as well as an upgraded Apple TV set-top box and perhaps enhancements to its content offerings in support of the iPad 3's ultra-high resolution display and expected 1080p capabilities of the new Apple TV box.