ITV Warns Apple (Again) Not to Use Their Name [Updated]
Amidst the growing chorus of rumors about an Apple branded television, The Telegraph reports that the UK TV network ITV has written a letter to Apple to warn it against using the name "iTV" for its future television product.
This is actually not the first time that Apple and ITV have been in contention over the name. When Apple first announced their set top box in 2006, they originally called the product "iTV":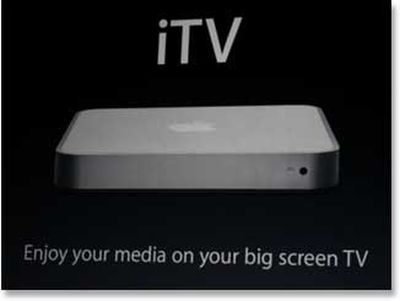 The original name for the Apple TV set top box
Apple later changed the name to "Apple TV", but reportedly
later reconsidered
changing the name back to iTV. ITV executives were
said to be "furious"
over the possibility.
The Telegraph reports that Apple gave reassurances back in 2010 that they would not use the name, though they note that Apple is now under different leadership.
However, insiders fear that the world's biggest company might take a different stance under Tim Cook, who replaced Steve Jobs as chief executive shortly before Mr Jobs died in August last year.
Apple is believed to be actively working on a standalone television product. A recent report claimed Canadian cable companies already had the product in their hands. That report and others have been casually referring to the upcoming product as the "Apple iTV", though Apple has yet to officially name or even acknowledge the project.
Update: In a statement to The Verge, ITV has denied that it sent any such warning to Apple.
In a statement to The Verge, ITV said that, "The Telegraph's piece is entirely speculative, and there has been no communication between ITV and Apple. ITV has no further comment on the matter."