Competitors Already 'Scrambling' to React to Apple's TV Plans
AllThingsD reports on a new research note from Jeffries analyst Peter Misek suggesting that manufacturers are already "scrambling" to react to claims that Apple is preparing to enter the television set market. And rather than innovating on their own, competitors are reportedly focused on trying to identify what Apple will do to revolutionize the industry.
"Based on our discussions, interestingly other TV manufacturers have begun a scrambling search to identify what iTV will be and do," says Misek. "They hope to avoid the fate of other industries and manufacturers who were caught flat footed by Apple."
Misek notes that Sharp appears to be retooling an LCD production line to suit Apple's needs, with mass production on the line reportedly targeted for February 2012. Such a development could put a product release sometime in the middle of the year. Previous rumors had claimed that Apple could announce its television set by late 2012 and launch the product by early 2013.
Whatever Apple's plans are, Misek suggests that competitors will almost certainly be six to twelve months behind with their own offerings, giving Apple a significant advantage in the marketplace if it truly does offer a revolutionary new product.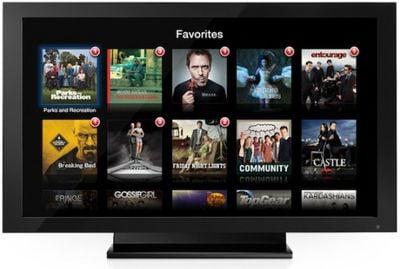 Sony has been the most visible company seeking to head off Apple's potential blockbuster entrance into the market, working to develop a "four screen" strategy across TVs, computers, tablets, and phones and investigating Web-based television services that would enable consumers to bypass traditional cable companies.
Apple has dabbled in television with its Apple TV set-top box and TV content available through the iTunes Store, but the company's ultimate plans are said to be much more ambitious, involving actual television sets incorporating Siri functionality that premiered in the iPhone 4S. The company has also reportedly developed a "new technology" for delivering content to TV sets and has expressed interest in offering "best of TV" bundles of shows, although content providers have yet to agree to such a plan.