Apple Developing 'New Technology' for Delivering Video Content
In an article on some of the challenges facing Tim Cook as he steps into his new role as CEO at Apple, The Wall Street Journal briefly notes that Apple is in the process of developing "new technology to deliver video to televisions". The article does not elaborate on what that technology might be, but revives rumors that Apple is seeking to launch a subscription package for television content.
An immediate challenge for Mr. Cook will be to advance Apple's plans in what is expected to be a key market for growth: digital video. Apple is working on new technology to deliver video to televisions, and has been discussing whether to try to launch a subscription TV service, according to people familiar with the matter. Unlike the iPod and music, where Apple has a commanding position, the battle to rule online video remains wide open and the company faces fierce competition.
Apple has of course been pushing its AirPlay technology for streaming video from iOS devices to its Apple TV set-top box, but the report's context suggests that the technology being referred to is separate from that effort.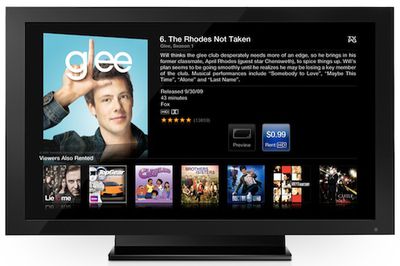 Apple has been rumored to be interested in launching an Apple-branded television set, although many of the rumors appear to fall into the category of speculation and wishful thinking. Apple has been very careful about entering the television market, limiting itself primarily to select content offered the iTunes Store and hardware such as the Apple TV for streaming within the Apple ecosystem. The company has expressed concern over the difficult go-to-market strategy for any television offerings, citing the competitive, low-margin market for television sets and the balkanized content arrangements among media and cable companies.
Rumors of a potential "best of television" subscription package surfaced in late 2009, with Disney and CBS said to have been interested in signing on to the service. By the time the iPad launched in early 2010, those plans had apparently been put on hold due to a lack of interest from media companies.