Grand Central Terminal Retail Store Opening 'Won't Be Any Time Too Soon'
Earlier this week, it was reported that Apple was set to announce its grand opening plans for its massive new Grand Central Terminal retail store today, with rumors suggesting that Apple would open the store this Friday or "shortly thereafter".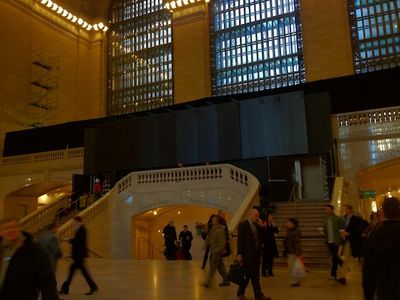 Apple's Grand Central Terminal retail store under construction (Source: techfootnote)
Mashable now reports
that construction workers at the site have indicated that a significant amount of work still remains to be done and that the opening "won't be any time too soon."
Although many anticipated that Apple would open its Grand Central Terminal store in New York City before Black Friday, construction workers at the location confirmed on Tuesday that it won't be ready in time. The store, opening in the highly-trafficked commuter terminal, will be Apple's largest retail venue.

"It won't be any time too soon," a construction worker at the site told Mashable. "We still have a lot to do, so my guess is that it will be ready in December."
Early reports had targeted a mid-November opening for the project as Apple rushed to try to have the store open by the start of the busy holiday shopping season, but it appears that the company will not meet that goal. The company had been pursing an aggressive four-month buildout schedule made possible by the fact that major alterations to the building's structure are not permitted, but it seems that there still is some work left to be done.