Work Begins on Grand Central Terminal Apple Store, Opening Mid-November?
Work has begun on Apple's massive new retail store in Manhattan's historic Grand Central Terminal as the company works quickly to try to open the store in time for the holiday shopping season. As noted at last month's approval for the project, Apple will be able to move forward on a very tight construction timetable due to the fact that only minimal changes to the building itself are permitted.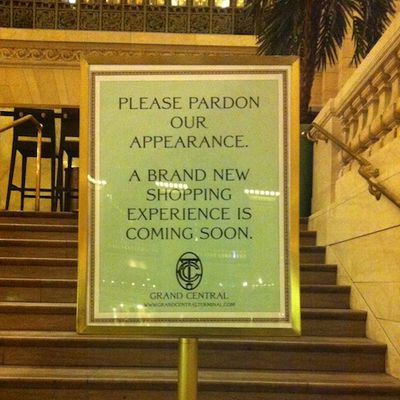 Earlier this month, one MacRumors reader passed along a photo showing the closed off stairway to the former Metrazur restaurant where the Apple retail store is being constructed, suggesting that at least preparatory work was underway to close the restaurant and turn the site over to Apple's contractors.


Another reader has now passed along new photos showing work underway, and while the view from the concourse below the store is primarily of scaffolding and plastic tarps, it is clear that things are moving forward.


We've been told by an employee at Grand Central Terminal that crews have already demolished the kitchen area of the former Metrazur restaurant and are working to turn it into a storage room for the Apple retail store.
In addition, Apple has reportedly indicated that it is planning to open the store in time for the "Black Friday" shopping rush, which falls on the day after Thanksgiving in the United States and represents the kickoff to the holiday shopping season. Black Friday falls on November 25th this year, and Apple is said to possibly be shooting for a grand opening on November 12th, in line with the previously-reported four-month construction timeframe with respect to last month's project approval.
Thanks, Beau & Mike!