Apple's Search for New Retail Chief Extending Internationally
Back in June, department store chain J.C. Penney announced that it had named Apple retail boss Ron Johnson as its next Chief Executive Officer, with Johnson set to take the new job as of November 1st. Johnson has played an instrumental role at Apple over the past decade, overseeing the company's entire retail store initiative since joining Apple from discount retailer Target in 2000.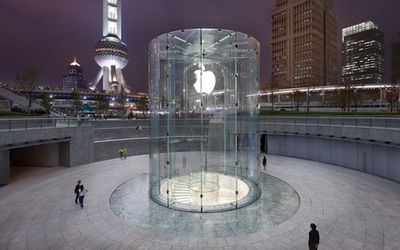 Apple's Pudong retail store in Shanghai, China
As part of its efforts to find a replacement for Johnson, Apple has reportedly
extended its reach internationally
with the hiring of search firm Egon Zehnder to assist with the search, according to
The Wall Street Journal
.
Chief Executive Steve Jobs, who's now on medical leave, was extensively involved in the decision to use a search firm and chose Egon Zehnder mainly because he wants to consider executives who are based abroad, one person familiar with the situation said.

Apple's hiring of the global recruitment firm suggests that the company may be seeking an executive with international retail experience. That makes sense given that it has been focusing most of its recent retail expansion in international markets.
Apple's emphasis on international retail stores over the past several years has seen the international component of the company's retail arm grow to nearly 30% of the over 325 total stores. Apple currently operates retail stores in ten countries beyond the United States, and is in the midst of a significant push to open 30 more stores before the end of September.
Apple's "Greater China" market of China, Taiwan, and Hong Kong has been a major focus for the company over the last year or two, although Apple has been relatively slow to open new stores there as the company currently operates only four stores in the country, all of which rank among the busiest in the company's chain. Apple last year announced plans to open up to 25 new stores in China during the following 24 months, but the company has opened only three locations since that time as it has worked hard to identify the best locations and to make plans for larger and more iconic stores than originally anticipated.