In-Store Pickup for Apple Online Store Orders Expanded to New York City
Earlier today, we noted that Apple is planning a number of enhancements to its online and retail store shopping offerings, perhaps most notably allowing retail store customers purchasing shelf-stocked accessories and other items to utilize a self-checkout option through the company's Apple Store iOS application.
One other enhancement that first rolled out last week is the ability for customers to place orders through Apple's online store and have them shipped to a local Apple retail store for pickup. The new feature is convenient for those who have difficulty receiving shipments at their homes or who wish to not utilize home or office delivery for some other reason.
The in-store pickup program launched as a pilot program at the three Apple retail stores located in San Francisco, but quickly expanded to include all sixteen stores in the San Francisco Bay Area.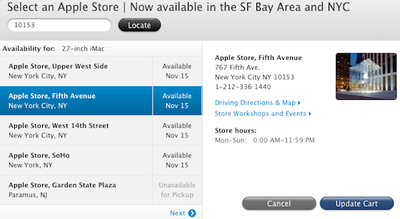 As noticed by AppleInsider, the program has expanded yet again, now offering support for Apple's four stores in New York City: the iconic Fifth Avenue store as well as the Upper West Side, West 14th Street, and Soho stores. The Soho store is currently undergoing renovation and expansion, and Apple is operating a temporary store a block and a half away from the permanent Soho location in the meantime.
Apple has given no indication on exactly how quickly it will expand the pickup program to all stores in the United States, and perhaps internationally. But with the program already expanding to include 20 stores in less than a week, it's clear that the company is rapidly filling out the pilot program with an eye toward offering in-store pickup at as many stores as possible heading into the holiday shopping season.