Apple Online Store Begins Offering In-Store Pickup in San Francisco
Earlier this week, we reported that Apple was planning to launch a pilot program that would allow customers placing orders through the company's online store to pick up their orders at their local Apple retail stores. Following a maintenance period that took the online store offline earlier today, in-store pickup is now available for Apple's three retail stores in San Francisco.
Users adding products to their shopping cart are now presented with an option of whether to have their order shipped or made available for pickup. Customers can search for their closest Apple retail stores based on zip code, although options are obviously limited with the pilot program currently including only three stores: San Francisco flagship, Stonestown, and Chestnut Street. Apple promises that more locations will offer in-store pickup in the near future, with 9to5Mac indicating that other Bay Area locations may join the program in as little as a few days from now.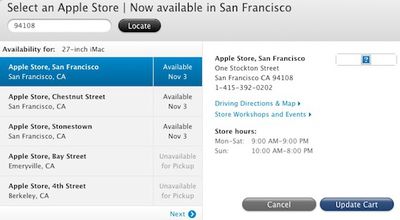 Testing of the new in-store pickup shopping method suggests that delivery may be slightly slower than for direct shipment, as evidenced by a sample order for a custom-configured iMac that was offered a pickup date of November 3rd. Direct delivery of the same order was pegged within a window of October 29th through November 2nd.


It is possible, however, that in-store pickup dates may simply be conservative estimates based on the worst-case direct delivery estimate plus one day for processing at the store. Consequently, orders may arrive at stores ahead of their estimated availability date, with customers being emailed when the orders are ready for pickup.
Orders for standard items stocked by Apple retail stores will indicate same-day availability for the three San Francisco locations, allowing customers to place their orders online and simply visit the store for immediate pickup.