Apple to Release a White iPod Touch with Minor Changes in October
Apple is expected to hold a press conference in the coming weeks to introduce its fall lineup for the iPhone and iPod touch. Most of the rumors have been focused on the next iPhone revision, and there has been very little information about the next-generation iPod touch.
MacRumors has received information indicating that the next iPod touch revision will be a very minor change, with the primary addition being the introduction of a new white model. Only minor changes are expected for the existing hardware, with the addition of an oleophobic coating for the display and a revised ambient light sensor seemingly being the main differences. Otherwise, we expect the models to be nearly identical to the current fourth-generation iPod touch model.
Our information confirms previous reports by Concord Securities analyst Ming-Chi Kuo, who had indicated that there would be few, if any, distinguishable changes from last year's iPod touch model.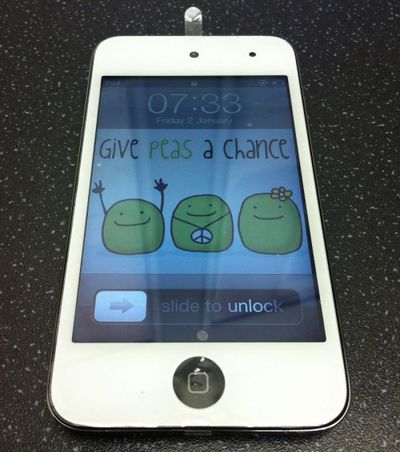 Leaked white iPod touch screen installed on black fourth-gen iPod touch, courtesy of iPatch iPods. Production model expected to have white home button.
White parts for the iPod touch
leaked
into the supply chain back in July, offering the first suggestion of the imminent introduction of the white iPod touch but with no major case changes. As shown above, these white iPod touch screens could be installed onto the existing fourth-generation iPod touches.
This news would conflict with ambitious reports of 3G-enabled iPod touches this year, and also extinguish speculation that the tapered iPhone 5 case design might actually have represented the fifth-generation iPod touch.
The new models are expected to be announced alongside the iPhone in the first week of October with availability in the middle of the month. The iPod nano is also expected to get a minor revision at the same time.
Other reports have pinpointed dates in the first or second week of October for the actual announcement date. We've heard similar whispers, but suspect the date has been a moving target. Finally, we have also heard independently that the Golden Master of iOS 5 is targeted for September 23rd, lining up with the iCloud data reset.