Ultrabook Manufacturers Limiting Initial Shipments in Face of MacBook Air Popularity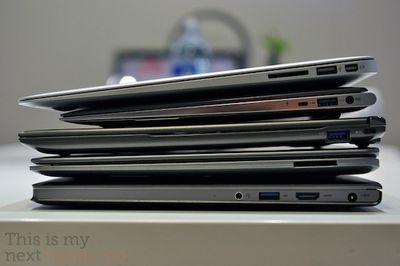 Top to bottom: MacBook Air, ASUS UX21, Toshiba Portege Z830, Acer Aspire S3, Lenovo IdeaPad U300s (Source: This is my next...)
Apple's redesigned MacBook Air has proven popular with consumers, with the company reportedly pushing out
up to 500,000 units per month
to satisfy demand. The product's success has drawn the interest of Intel and Windows PC manufacturers, who are beginning to roll out their own "Ultrabook" models to compete with the MacBook Air. But a
new report
from
Digitimes
claims that those manufacturers are merely testing the waters, limiting initial shipments to a combined 50,000 units.
First-tier notebook brand vendors Acer, Lenovo, Toshiba and Asustek Computer, understanding that demand for notebooks is unlikely to recover in the fourth quarter, while Apple's products are taking up all the glory in the market, will limit their initial Ultrabook shipment volume to below 50,000 units for testing the water, according to sources from notebook makers.
Intel has been pushing the Ultrabook concept as the future of notebook computers, but manufacturers have been having difficulties bringing costs to the point where they can compete with the MacBook Air. Intel has been pushing for Ultrabook pricing to begin at under $1000, and while some models may reach that goal, manufacturers and Intel have been at odds over how to cut costs to reach that target.