DigiTimes reports that Apple is off to an aggressive start with its new MacBook Air models, having already pushed out 400,000-500,000 units in June and continuing with strong production through at least the end of August. Sources within Apple's supply chain also indicate that Apple is shooting for total notebook shipments of 13-14 million in 2011, with the possibility of hitting 15 million units.
Shipments of Apple's just released third-generation MacBook Air from the supply chain already reached 400,000-500,000 units in June and the volume is expected to remain strong throughout July and August, according to sources from Apple's upstream supply chain.

The sources estimated that Apple's MacBook series sales will reach 13-14 million units in 2011 and may even reach 15 million units, while adding that Apple is the only vendor that has provided a full shipments forecast to the first quarter of 2012 as the IT industry is being rather conservative about the overall demand in the second half of 2011.
Apple shipped 2.75 million notebooks during the first calendar quarter of 2011, and followed that up with 2.79 million in the second quarter as announced on Tuesday, putting Apple's total notebook shipments at roughly 5.55 million for the first half of the year. Consequently, it would take a very significant acceleration in shipments for Apple to push toward that 15 million mark by the end of the year, although the company's back-to-school and holiday shopping seasons remain ahead of it and the new MacBook Airs are likely to drive further sales growth.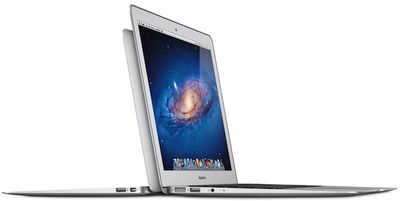 Last year, Apple shipped 3.9 million notebooks in the first half of the year and boosted that rate by 30% in the second half of the year to 5.1 million notebooks, for a total of just over 9 million notebooks shipped in 2010. If Apple was to again boost its notebook shipments by 30% from the first half to the second half of this year, it would reach approximately 12.75 million units for 2011. So, Apple would need to have "back half" unit growth of 35-55% to hit this year's full-year target range and more like 70% growth to reach the full 15 million units.