iPhone 5 with Metal Chassis and Less Than 4" Screen?
Digitimes offers a bit of a strange report this morning that just seems to reinforce some details that have been previously reported about the iPhone 5.
The strangest bit, however, is that their report attempts to refute a fake "leak" video that circulated on YouTube earlier this month.
Despite rumors about iPhone 5 featuring a 4.2-inch panel circulating within the IT market for a while, following a leak from Apple's website in Switzerland in early August
The referenced "leak" video was a clear fake. They seem to have taken the video seriously, but at the least they refute the details of the leak citing "upstream panel suppliers."
Instead, their sources indicate the iPhone 5 will include a 3.5 to 3.7-inch panel "with a design to allow the bezel of the panel to become thinner and make the screen look larger." They also report that the glass back of the current iPhone 4 will be changed to a "metal chassis".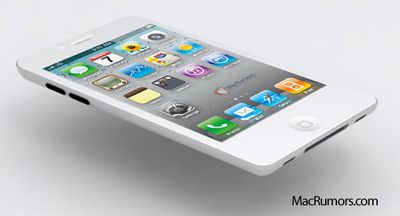 iPhone 5 artist rendition with 3.7" screen and circular home button
Despite the confused nature of the report, these details come at an interesting time, as the vision of the iPhone 5 has become increasing confused.
Last week, we saw a number of part leaks for a device that looks just like the iPhone 4, but carrying an upgraded A5 processor. That device carried an internal name of 'N94' which was previously believed to be the iPhone 5. Over the last few months, multiple conflicting sources have described the iPhone 5 as both thinner and lighter as well as largely identical to the iPhone 4. The "largely identical" report came from Reuters who did say that the new device would have a "bigger touch screen".
The only concrete design that we've seen is one of a leaked design spec but we've not yet seen any related parts leak out into the supply system.