iPhone N94 Prototype Back Cover - Is This Actually the iPhone 5?
Right on the heels of our "iPhone 4S" antenna photos, comes even more pieces to the puzzle. This image from MacPost.net offers the first look at the back cover of an upcoming iPhone. This prototype part is labeled "EVT" (Engineering Verification Test) and dated June 7, 2011.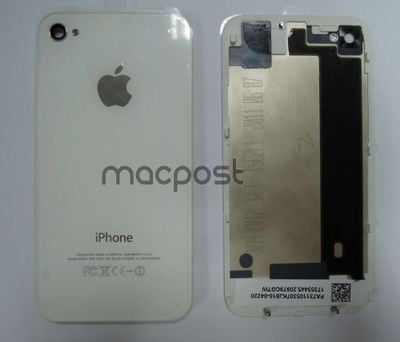 What's most revealing about this part is that it is actually labeled with the internal model number "N94". N94 is the model number for what we believe to be a next-generation iPhone. N94 first appeared in SDK code back in iOS 4.3. At the time, the N94 was identified as supporting an A5 processor -- that's the same processor found in the iPad 2.
Meanwhile, the AT&T iPhone 4 carries the model designation N90 while the Verizon iPhone 4 is called the N92. Both current iPhone 4 models use the slower A4 processor.
We also heard about the N94 in April when BGR claimed that it had a photo of a prototype N94 that supported T-Mobile's 3G service. They showed photos of the device at the time. What's interesting to note now is that as best as we can tell, that prototype iPhone had a visible antenna break at the bottom left, and no antenna break in the top left -- just like the iPhone 4, but also just like the leaked antenna parts we posted yesterday. (Unfortunately, the other side of the device is not visible in any of the shots.)
So, here's what we think we know about the N94, based on the circulating rumors
• It looks like an iPhone 4
• Has a redesigned antenna
• Supports T-Mobile
• A5 Processor
So is the N94 the actual iPhone 5? Possibly. MacPost also published photos of associated parts which include items we've seen before. These have been labeled as "iPhone 5" parts in the past, but now seem to be associated with this particular case design. That means all the part leaks we've seen so far are for this iPhone 4-like design. If so, Reuters may have been right in saying that the iPhone 5 will look "largely similar to the iPhone 4". Could this be the cheaper iPhone 4 variant? Also possible, but that would mean Apple would be supplying A5 processors in their "cheap" version as well.
What of the tapered iPhone 5 designs that we've seen circulating? Those were sourced from a ThisIsMyNext article and subsequent case design leak and actual cases for sale. As we've said before, Chinese case manufacturers have a big financial incentive to get case designs ahead of Apple's launch, but they've been wrong before. As far as we can tell, we've not seen any actual part leaks from that rumored thinner/tapered design.