Doubts Cast on Revived Rumors of Subscription TV Packages from Apple
Yesterday, The Wall Street Journal briefly reported that Apple is working on "new technology" for pushing video content to televisions, apparently linking that work with revived rumors of a subscription TV service. Rumors of such of a service first surfaced in late 2009, but by the iPad launch in March 2010, Apple had been said to have put the plans on hold in the face of opposition from media companies.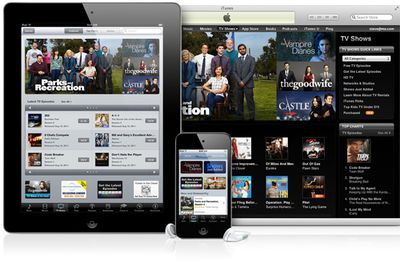 But despite The Wall Street Journal's revival of the rumors yesterday, CNET insists that such an offering will not be coming in the near future, if ever, pointing back to a report earlier this month shooting down rumors of an imminent "iTunes Replay" streaming service for movies. The report also cites today's removal of TV show rentals from iTunes as evidence that Apple is moving backwards on the streaming TV front rather than making progress on any subscription deals.
Now does this sound like the studios are willing to back a new subscription service from Apple or for anyone else for that matter? No. Don't put any stock in the rumors that began circulating today. My sources at the studios said three weeks ago that an Apple subscription service is not coming anytime soon, if ever.
The report goes on to note that while Apple has over the course of negotiations with media companies suggested a number of potential business models, the company has yet to seriously push forward on any subscription TV proposals. The company instead seems to be focused more on basic cloud services that would allow users to download or stream purchased content from Apple's servers as needed.