Apple Reportedly Tempering Expectations as iPad Content Deals Remain Unfinalized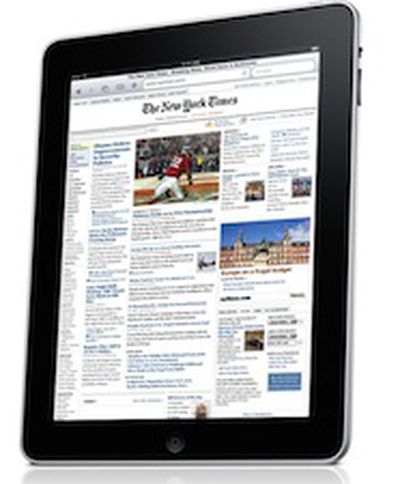 The Wall Street Journal reports that Apple is tempering its own expectations for launch content on the iPad as it continues to struggle with finalizing deals with publishers ahead of the device's April 3rd launch date. In particular, television content and iPad-specific presentation of newspaper, magazine, and textbook content are said to have been set aside as Apple focuses its efforts on other content that stands a chance of meeting the launch deadline.
Yet the company is still negotiating with media companies for a price cut on TV shows that people can download onto the device, said people familiar with the matter. Apple also hoped to work closely with newspaper, magazines and textbook publishers on new ways to digitally present print content on the iPad, but has for now put the effort on backburner in favor of focusing on other content, said one of those people.
The report notes that potential partners have been reluctant to sign on with Apple, weighing the benefits of bringing their content to new platforms against risks to their revenue streams as they consider forging new revenue models.
Presumably Apple has been focusing a significant amount of attention on eBooks, as it seeks to roll out its iBooks application and associated iBookstore in the U.S. as the device launches. Apple has also been working to provide tools to developers to allow them to move their iPhone and iPod touch App Store applications to the iPad and bring new providers on board.
The report also cites a source claiming that Apple has already sold "hundreds of thousands" of iPads since it went on sale last Friday, with the potential to outsell the original iPhone over the respective devices' initial three months' of sales. U.S. customers are currently able to pre-order any of Apple's six iPad models, with Wi-Fi models scheduling for launch on April 3rd and 3G-capable models to follow in late April. International availability of all models is also scheduled to follow at that time.
Update: The Wall Street Journal's report has been expanded to include discussion of Apple's hopes for television content on the iPad, disclosing that Apple has put on hold its plans for a "Best of TV" subscription service in favor of working to convince networks to drop existing episode pricing to $0.99 to spur demand. Rumors of Apple's pricing strategy surfaced in late January, but networks have been reluctant to sign on.
It has put on hold its idea to offer TV subscriptions that would be viewable through the iPad, because few media companies were interested. Instead, Apple is discussing dropping the price of TV shows to 99 cents from the $1.99 and $2.99 charged for most shows on its iTunes store, said people familiar with the situation.
Apple hasn't yet reached a deal with many major TV producers on the price cut, these people said. Some are concerned a price cut could hurt their existing businesses, these people said, including jeopardizing the tens of billions of dollars in subscription fees they are paid by cable and satellite companies for their traditional TV networks.