Apple Removes 99-Cent TV Show Rentals from iTunes Store and Apple TV [Updated]
AppleInsider notes that Apple has apparently quietly discontinued its 99-cent TV show rentals, shutting off access to the offerings via iTunes Store and Apple TV.
The option to rent episodes of TV shows is no longer available on either the Apple TV, or when browsing content via Apple's iTunes application. Previously, participating networks offered users the ability to rent a TV episode for 99 cents, with 30 days to begin watching and 48 hours to complete it.

As further evidence that the ability to rent TV shows has been removed completely, an Apple support document entitled "iTunes Store: How to rent TV shows," has been removed from the Web. A Google cache of the page is still available.
The company's Apple TV page has also been updated to remove mention of the option to rent TV shows on the device.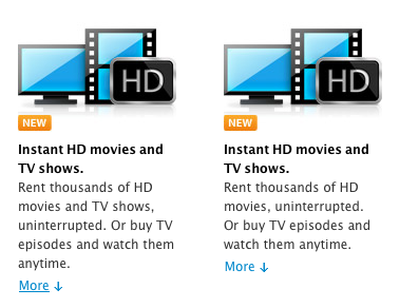 Movie/TV show feature from Apple TV page: before (left) and after (right) changes
Apple
launched
99-cent TV show rentals alongside the revamped Apple TV last September, but networks were reluctant to sign onto the program, finding the pricing too low for their tastes. The program launched with ABC and Fox on board, but
Warner Brothers
,
NBC
,
Viacom
, and other opted out. It appears that Apple has finally decided to cancel the program as it has been unable to bring a critical mass of studios on board.
Update: AllThingsD has a statement from Apple:
"iTunes customers have shown they overwhelmingly prefer buying TV shows," Apple spokesman Tom Neumayr said. "iTunes in the Cloud lets customers download and watch their past TV purchases from their iOS devices, Apple TV, Mac or PC allowing them to enjoy their programming whenever and however they choose."