'iPhone 4S' and iPad 3 Coming in Late October?
Mac Otakara reports that it has received information indicating that Apple will be introducing the iPad 3 and "iPhone 4S" sometime early next month, with availability set for "late October". The source offered no information, however, on plans for the iPhone 5, although rumors have suggested that Apple will introduce both a revamped iPhone 5 and tweaked iPhone 4 next month.
According to sources, iPhone 4S which is based on iPhone 4(CDMA) and new iPad will be started produce since 1st week in September and will be shipped in late October.
The "iPhone 4S" name is an unofficial one that has been used in a variety of reports to refer to a new iPhone based largely on and appearing nearly identical to the current iPhone 4, but offering upgraded internal components. What has come to be known as the iPhone 5 is a more thorough redesign which has surfaced in case designs reportedly based on leaked design specs.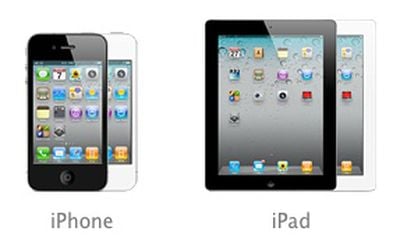 There had been some confusion about whether Apple would be releasing an "iPhone 4S" or "iPhone 5" this year, with some suggesting that the confusion stemmed from Apple testing iPhone 5 components within iPhone 4 enclosures for secrecy. But others have claimed that Apple will indeed be introducing both the iPhone 5 and a tweaked iPhone 4 as rumors of a low-cost iPhone have continued to swirl.
Apple has of course traditionally kept its older models around as entry-level options, as evidenced Apple's continued sale of an 8 GB iPhone 3GS model, but the volume of rumors suggest that Apple may be doing a bit more tweaking to its low-end offerings this time around. Such low-cost models are said to be key for penetrating the prepaid markets prevalent in a number of large countries around the world.
Mac Otakara has offered some accurate information in the past, and notably was the first source to pinpoint some of the features of the iPad 2 as case designs began leaking out. A number of potential dates for a media event introducing the iPhone 5 and perhaps the iPad 3 have been suggested, with early reports of a September timeframe being countered early last week with a report from All Things Digital claiming that the device won't be available until October. The latest rumor has, however, claimed a September 7th media event, although an iPhone 5 introduction at that time to be followed with a launch as far off as late October would be outside Apple's usual gap between introduction and availability.