Apple Patent Watch: Pico Projectors and 'Schematic Maps'
While we do hesitate to read too much into Apple's patent applications, a couple of new applications published earlier today are gaining some attention for their connections to other Apple-related people and events that have raised the level of intrigue.
Last week, we noted that Apple had finally been revealed as the owner of the applepico.com domain name, as public registration information for the domain was updated to move from Apple's brand management firm MarkMonitor to Apple itself. And now, Unwired View and Patently Apple report that a newly-published patent application from Apple describes in detail how the company could include internal or external pico projectors with its products and utilize them in novel ways.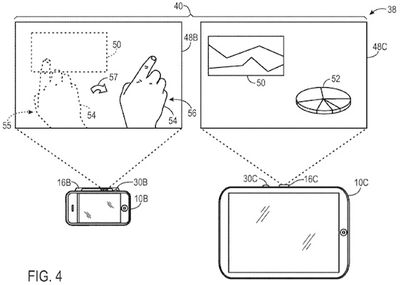 In particular, Apple's patent application addresses means by which multiple devices with projectors could be used in concert, either as separate displays or as a single unified display. Either setup could be take advantage of built-in cameras to allow systems to automatically recognize and interpret gestures and shadows, facilitating more dynamic and interactive presentations.

In separate-display mode, a presenter could use a gesture to "push" an image or other content from one screen onto a second one. In unified-display mode, multiple pico projectors could automatically line up their projected images to create a single workspace covering a much larger space than would be possible with only a single projector.


Today's published patent application dates back to February 2010 and is by no means the company's first to address the concept of pico projectors. And while the technology remains in its early stages and is unlikely to make its way into Apple's products in the near future, it's clear the that the company's engineers are at least exploring about the possibilities.
A second patent application, summarized by AppleInsider, demonstrates some of the advances being made by members of Apple's maps team brought on board with the company's acquisition of Placebase two years ago. The new application, which was filed in February 2010 and is credited to Placebase co-founders Jaron Waldman and Moran Ben-David, is entitled "Schematic Maps" and describes a new maps application that could display a simplified subset of information most relevant to a user seeking specific information or routing.


Apple describes how a map could automatically assign "usefulness" indexes to various map features and either display only the most useful features to assist users or distort existing maps to emphasize those most useful features. One example of how the idea could be implemented in practice includes a map route that displays only the exact route to be taken, with a subset of additional information such as cross streets and landmarks also included to assist the user. Other examples include schematics highlighting where a user's friends and contacts are nearby or over-emphasizing the location of a minor alleyway that could help a user find a specific nearby location.