Deals Already in Place for Apple to Launch Netflix Competitor?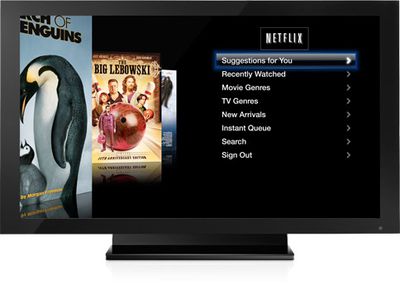 Building on his earlier claims that Apple is preparing a subscription video streaming service to take on Netflix, Jefferies analyst Peter Misek today issued a new report claiming that Apple already has deals in place with the major video studios and TV networks to support such a service.
Apple might be ready to roll out its own video subscription service similar to Amazon and Netflix, Peter Misek at Jefferies reports in a note this morning.

Specifically, he says, "As part of Apple's roll-out of cloud video services (and eventually an iTV), we believe Apple has unannounced deals with all/most of the studios/TV networks that are similar to the subscription streaming deal between Amazon and CBS."
Apple earlier this week expanded its nascent iCloud service to include the re-downloading of purchased TV shows, including allowing Apple TV devices to stream the purchased content directly from the cloud. And with another claim today suggesting that Apple may finally be preparing to launch its "iTunes Replay" service that would fold the cloud-based TV show offerings in with a similar program for movies to support re-downloads and streaming, Apple appears to be making a significant push into bringing video to iCloud.