Analyst Speculates Apple Prepping Video Subscription Service to Challenge Netflix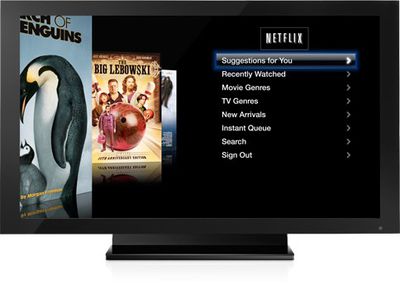 Speculation about Apple's plans for its massive new data center in North Carolina has been running rampant for quite some time, and we're always hesitant to place too much emphasis on claims of research analysts, but
one report
from Jefferies analyst Peter Misek is gaining some attention today for its claim that Apple may be preparing to take on Netflix in the streaming video subscription market.
Apple is on the cusp of launching a "a new far reaching cloud-based service" focused on video, writes Jefferies analyst Peter Misek in a big report this morning.
Misek says Apple will use its new massive data center in North Carolina to offer an advanced web-based video subscription product that rivals Netflix.
Last week, a report surfaced claiming that Apple had locked in as much as 12 petabytes of storage purportedly set to support video download content. While Apple has been said to be preparing to roll out a cloud-based MobileMe revamp that would allow users to store video, music, and photos on Apple's servers, Misek argues that Apple will further use the capacity to launch a Netflix-like service that would serve to further drive sales of Apple hardware.
Misek sees Apple's plans to potentially double the size of its new data center in the future as the first step towards a massive expansion of its server capacity that could see the company rolling out multiple such sites around the world in the years to come in order to support massive storage and streaming capabilities for such services.