Final Cut Pro X and Third-Party Thunderbolt Peripherals Coming Next Week?
Japanese blog Mac Otakara reports that Apple is apparently set to launch its new Final Cut Pro X offerings next week, to be accompanied by the release of a number of new Thunderbolt-equipped accessories from third-party vendors.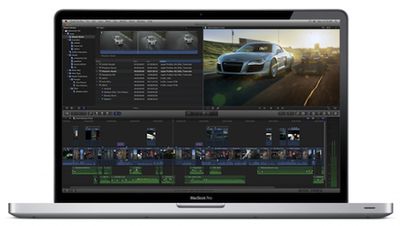 Apple demoed Final Cut Pro X back in mid-April, announcing that the professional video production software would launch on the Mac App Store in June priced at $299. Apple has yet to release any official word on the other components of its Final Cut Studio package or its lighter-weight Final Cut Express software. A number of screenshots from Final Cut Pro X and related applications have also leaked in recent days just ahead of the software's launch, but the full details remain unknown.
Apple debuted the new Thunderbolt high-speed data and display connectivity standard on revamped MacBook Pros back in late February, extending the feature to its iMac line just last month. Third-party vendors have been showing off new Thunderbolt-equipped peripherals, but few have made it to market so far. If today's report is true, it seems that Apple will be taking advantage of the Final Cut Pro X debut to also roll out new Thunderbolt peripherals, devices that video professionals will almost certainly find useful in moving large files around quickly.