Apple Demos Final Cut Pro X at NAB 2011, Ships in June for $299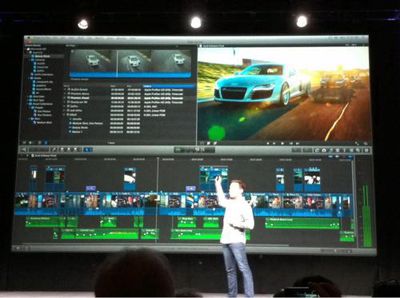 Photo by
@adamtheeditor
The rumors were true. Apple did take over the on-stage portion of this year's Final Cut Pro User Group SuperMeet and used the venue to present the next version of Final Cut Pro. The new version of Final Cut Pro has been renamed to "Final Cut Pro X" and is described as a complete rewrite of the original application.
For a detailed list of new changes see our keynote coverage or see PhotographyBay for their play-by-play.
Final Cut Pro X will be a 64-bit application with Grand Central Dispatch support, allowing it to scale and use all available cores for background rendering. Comments from those who watched the demos indicated that background rendering was a big feature (no more waiting) and lots of real time effects and high performance. Final Cut Pro X will be available for $299 on the App Store in June. There was no mention of Final Cut Express or the rest of the Final Cut Studio.
Update: An Apple rep told LoopInsight to stay tuned for news on the rest of the suite:
"Today was just a sneak peak of Final Cut Pro, stay tuned"
Loop Insight also managed to get a few screenshots.

Click for larger.