ThunderBolt Products Starting to Roll Out at NAB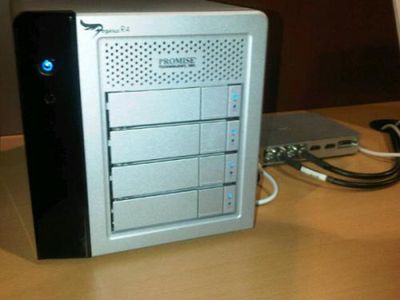 Pegasus R4 RAID w/ Thunderbolt, photo by
@josh_diamond
The
2011 National Association of Broadcasters (NAB)
trade show is underway. While the event is primarily targeted at Audio/Video/Film professionals, Apple fans will be interested to see that companies are finally starting introduce Thunderbolt-compatible devices into the market.
Jigsaw Broadcast
posts a brief summary of the some of Thunderbolt solutions introduced so far. They include products from
AJA
,
Blackmagic
,
Promise
, and
Matrox
. All are targeted at video professionals, but finally shows some industry adoption of the new connectivity standard.
Apple and Intel launched Thunderbolt alongside the new MacBook Pro revisions in February. Thunderbolt promises faster connectivity than USB 3.0 and FireWire and we expect it to be included in all future Mac products.
Promise was one of the first companies that announced support for RAID Thunderbolt drive enclosures back in February. Those enclosures aren't yet shipping, but at least a couple of early prototypes are being demoed on the NAB floor. @sforde reports on one at the Adobe booth:
Wow! We have 1 of only 2 promise raids in world with thunderbolt at the Adobe booth at #NAB. CS5.5 screams on it.
The other must be at the Blackmagic booth which is pictured above. Meanwhile, the big anticipated news from NAB is Apple's announcement of a new version of Final Cut Pro. That news should arrive tomorrow night if rumors prove true.