Mac App Store Notes: Recognizing Previously-Installed Apps, Pricing Discounts
With the Mac App Store having gone live earlier today, users have now had a chance to play around with the store's features and offerings. And while the Mac App Store is fairly straightforward and very reminiscent of the iOS App Store, there are a few items of note that are worth mentioning.
Gizmodo offers a brief walkthrough of the Mac App Store purchasing process and some of the accompanying changes in Mac OS X 10.6.6, which include the use of existing iTunes Store accounts (and thus any corresponding gift card balances) for Mac App Store purchases and the previously-noted unknown filetype search integration in Mac OS X. Other interesting notes:
- Applications installed outside the Mac App Store: The Mac App Store automatically recognizes when a user already has Apple apps such as iLife '11 and iWork '09 installed on his or her system, showing an "installed" note in place of the purchase button in the store. The same does not appear to be true for third-party applications, however, as our previously-installed copy of TextWrangler was not picked up by the Mac App Store.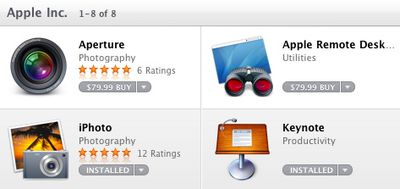 -
Discounts on Apple software
: The three components of Apple's iWork productivity suite are offered individually through the Mac App Store for $19.99 apiece, for a total of $59.97. In addition to offering the flexibility of purchasing only select portions of the iWork suite, the overall Mac App Store price is considerably below Apple's $79.00 price for iWork on physical media. In addition, Mac App Store purchases can be used on multiple machines controlled by the user, making the Mac App Store version more like the $99 iWork family pack.
Even bigger discounts can be had on a couple of other Apple software products. Most notably, Apple is offering Aperture 3 through the Mac App Store for only $79.99, a tremendous savings off of the $199 price for the version shipping on physical media. Apple is also offering its Apple Remote Desktop software through the Mac App Store for $79.99, a format that might be more appealing to some consumers than the company's standard offerings of a 10-system license for $299 or an unlimited license for $499.
iLife '11, however, is a slightly different story which sees the individual iPhoto, iMovie, and GarageBand components priced at $14.99 in the Mac App Store, for a total of $44.97. Apple sells iLife '11 on physical media for $49.00, a package that also includes iWeb and iDVD. But considering that all new Macs ship with the full iLife suite and that iWeb and iDVD were not updated with iLife '11, most users should already be essentially up-to-date on those applications.
Update: Users are reporting varying levels of success with the Mac App Store recognizing previously-installed third-party software as already being on their systems, with applications such as Coda, Transmit, and Things being recognized. Other users are also noting difficulties with the Mac App Store picking up iWork as being installed. One potential solution has been to log out and close the Mac App Store application, or even logging out of the user's Mac OS X account entirely.