Mac App Store to Offer Searches for Unknown File Types, Parental Controls
9 to 5 Mac offers a few screenshots from Apple's forthcoming Mac App Store and the related Mac OS X 10.6.6 update, revealing a few tidbits of information about how the store will function.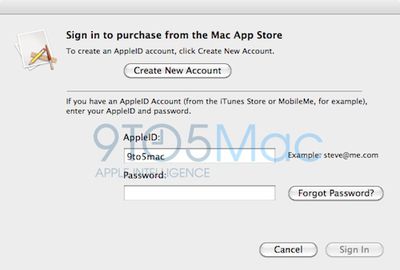 First, users will be able to sign into the Mac App Store using their existing AppleIDs, such as those created from the iTunes Store or MobileMe, operating in much the same way as the existing iOS App Store. Once inside the store, users will be able to browse for apps to purchase and/or download.
A series of code strings for options in the Mac App Store application's preferences indicates that the store will offer similar parental controls to those found in the iOS App Store, with apps able to carry age ratings of 4+, 7+, 12+, or 17+.

Also of interest is the fact that Mac OS X 10.6.6 will offer integration of Mac App Store searching for unknown file types. If a user attempts to open a file type that is not associated with an application installed on their computer, the user will be presented with a dialog box offering them the option of either choosing an application with which to open the file (as on current Mac OS X versions) or searching the Mac App Store to find an appropriate application.
The Mac App Store is set to debut for Mac OS X Snow Leopard users on January 6th.