Next-Generation iPad With Tapered Sides and iPod Touch-Like Form Factor?
Last week, Japanese blog Mac Otakara offered information about the next-generation iPad, claiming that the device will be slightly smaller in all dimensions while offering a flat back and modified speaker compared to the current model.
In a
new post
,
Mac Otakara
reveals that it has been able to get its hands on a pair of the
cases
claimed to be for the next-generation iPad that have surfaced in recent weeks. The blog has conducted a comparison of the cases, which include one hard shell and one soft silicone case, using the existing iPad in order to make additional guesses about what the next-generation version might look like. Among the interesting notes:
- The next-generation iPad appears likely to have tapered sides and a flat back, very similar to the current iPod touch. This contrasts with the current iPad, which offers flat sides and a slightly curved back.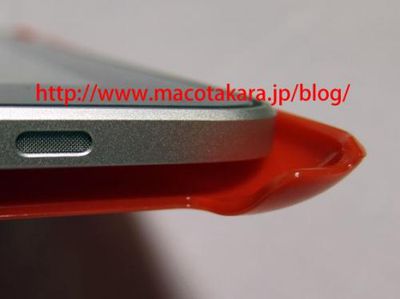 - The tapered sides will require a tweaking of some of the physical features found on the sides of the current iPad. The most visible of these changes is the speaker, whose grille moves to the rear of the device as we've seen in
several cases
.
- The volume buttons on the side of the next-generation iPad appear to be of the split style with an oblong form factor as seen on the current iPod touch, as opposed to the rocker buttons used on the current iPad and the round split buttons used on the iPhone 4.
- The camera hole in the rear of the cases claimed to be for the next-generation iPad appears to be similar in size to that for the iPhone 4 and larger than that seen with the iPod touch, suggesting that the next-generation iPad could see the higher-resolution rear camera capabilities seen on the iPhone 4.