New Next-Generation iPad Case Offers Further Hints of Larger Speaker
Earlier today, a rumor surfaced from a Japanese blog claiming that the next-generation iPad will include a larger speaker grille extending around to the rear of the device. The physical feature has been the subject of considerable speculation since a number of cases purportedly designed for the device contain much larger hole in that location than would be required for the existing speaker design.
Another rumor surfacing at the same time as the initial cases claimed that the next-generation iPad will offer an SD card slot, leading some to speculate that the larger hole at the location of the speaker might be to accommodate such a slot, but today's rumor suggested that the next-generation iPad will indeed simply include a larger speaker in that location.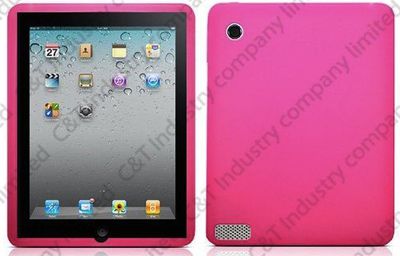 Claimed second-generation iPad case showing mesh cover for speaker
(Note: iPad and rear features are clearly mockups for illustrative purposes.)
Working from the new information,
Engadget discovered
a new case
posted
on trade site Alibaba.com that seems to support the speaker claim by showing what appears to be a speaker grille mocked up in the area of the larger hole. While the case depicted in the listing clearly contains mockups of the existing iPad in the front view and camera and speaker grille in the rear view, the image suggests that case vendors are designing their cases with the idea that the feature near the bottom rear of the device is in fact a speaker and not a card slot or other physical connector or button.