Apple Now Requiring Reservations for iPhone Purchases in China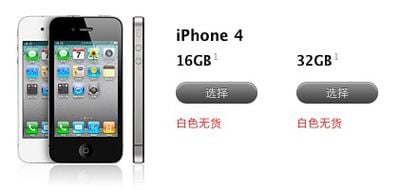 iPhone 4 reservation selection screen (Apple China)
As
noted by M.I.C. gadget
, Apple has once again tightened requirements for iPhone 4 purchases in its Chinese retail stores, now requiring that customers make reservations before visiting their stores to purchase the device. The change comes amid
shortages
of the iPhone 4 that have been accompanied by
scalpers
scooping up a significant portion of the available supply.
Here's how the new restrictions work: a customer needs to reserve an iPhone 4 online, choose the nearest retail store to pick up, and then Apple China offers the date and time for you to pick up. An email will be sent to customers after the reservation is successfully made. When a customer is picking up the iPhone 4 at the retail store, the name on the reservation must match the name on his/her ID exactly. Shoppers are reminded that they may purchase only one iPhone 4 each day.
Apple deployed the one-per-person limit and ID requirement last week in order to address the scalping issue, but has apparently felt the need to go further in requiring reservations to limit the number of walk-in customers attempting to get their hands on the popular device.

Reservation "cart" for Sanlitun retail store (Apple China)
As
confirmed by Macworld
, Apple's Chinese retail stores are taking only a limited number of reservations per day, corresponding to the stock on hand at each location. Stocks at all four retail stores were sold out by late morning today, indicating that customers may now find themselves competing online for reservation spots until the supply crunch is alleviated.