China Unicom's 100,000 iPhone 4s Insufficient for Pre-Order Demand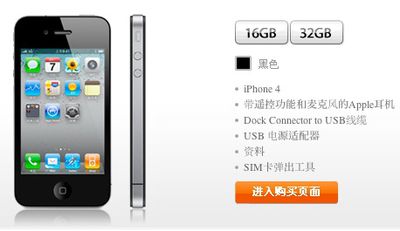 IDG News Service reports
that China Unicom has sold out of its initial shipment of nearly 100,000 iPhone 4s in the four days since the
device launched
in that country. With the company having taken 200,000 pre-orders for the iPhone 4, the carrier has been unable to meet demand and has stopped taking new online reservations as it awaits a second shipment due to arrive by the end of the week.
The massive demand for the product outpaces last year's official launch of the iPhone 3G and 3GS in China. During that period, it had taken over a month before China Unicom had announced it sold 100,000 iPhone units.
The iPhone 4 was officially launched in China last Saturday, with the popularity of the device causing retail outlets in the country to sell out of the product.
While a launch performance of 100,000 units is far short of the 1.7 million handsets shipped on the iPhone 4's initial launch weekend in the U.S. and four other countries in late June, it still marks a substantial improvement over earlier launches in the country.
The report also notes that China Unicom has announced that it has 10 million 3G users, compared to 150 million subscribers on its 2G network. That data indicates that China Unicom's customers are only beginning to move to the more advanced 3G network and handsets such as the iPhone, but with its 3G subscriber base growing by nearly 12% in August alone, China Unicom appears poised to experience an explosion in the adoption of the iPhone and other data-intensive smartphones.