iPhone Scalpers Force Temporary Closure of Beijing Apple Retail Store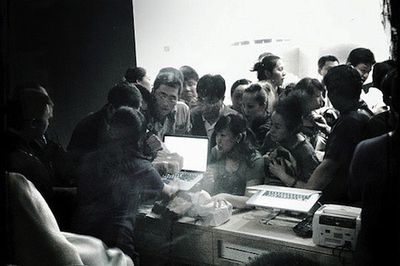 Customers swarm cashier stand in Apple's Sanlitun store in Beijing
The Wall Street Journal reports
that the
shortage
of iPhone 4s in China has led to a booming market for scalpers, many of whom are selling their stocks of iPhones outside the company's flagship Sanlitun store in Beijing.
But as of Thursday morning, Apple's flagship store in Beijing's Sanlitun Village mall was sold out of the new smartphone. As a result, scalpers, who bought up iPhone 4s earlier in the week, are now lurking outside the store ready to pounce on anyone who walks out without merchandise.
"Want to buy an iPhone 4?" they say. "Come with us."
Working in groups, the scalpers lead willing customers to an empty stairway in the same mall, where their cohorts keep stacks of iPhone 4s in the original packaging. One scalper was offering the 16-gigabyte version of the device for 5,400 yuan, or about 795 dollars, a 10-percent mark-up over the sticker price.
According to M.I.C. gadget, however, the scalpers are continuing to snap up iPhones as quickly as the Apple store can be restocked, leading to heightened tensions and even a temporary closure of the store today as tempers flared.
According to sources, the real customers and the iPhone 4 scalpers had a fight in the Apple store. A gang of scalpers were cutting the queue and some customers were fed up with the scalpers for buying large quantities of iPhone 4 and resell them outside the store. The police and Apple's own security staff appeared to clean up the mess and due to the chaotic crowd, the store needs to be closed temporarily...
The report claims that the sudden rush of scalpers has been enabled by Apple now allowing customers to purchase unlimited numbers of iPhones at the Sanlitun store, whereas the company had previously limited sales to two-per-customer. And with China Unicom not offering contract-free phones and Apple not taking online orders in China, customers and scalpers alike are flocking to Apple's four retail stores in the country (two in Beijing and two in Shanghai) to compete for the limited supply of contract-free iPhone 4s.
Update: M.I.C. gadget has updated its report to note that all four Apple retail stores in China are now requiring customers to show identification when purchasing iPhones and imposing a limit of one-per-customer. Store employees will also open and activate the new iPhones on the spot, eliminating the ability for scalpers to resell unopened iPhones.