iPod Touch and iOS Media Event Scheduled for Mid-August?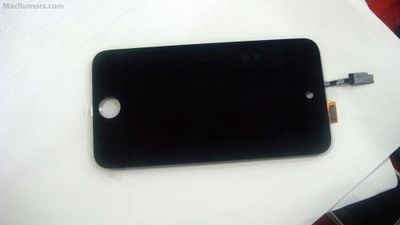 Claimed next-generation iPod touch LCD and front bezel showing apparent camera hole
MacMagazine reports
(
Google translation
) that it has received information from a "reliable source within Apple" that the company is planning to hold its traditional September iPod-focused media event a bit early this year, with the middle of this month appearing to be the targeted date.
The MacMagazine today received information from a reliable source within Apple about a new event to the press that the company was planning to soon. Although the schedule cite the source as somewhere around 14 and 16, we bet our chips on a Monday or Tuesday - that is, 16 or August 17.
According to the source, the event will include a focus on the company's next-generation iPod touch, as well as information on an iOS 4 release for iPad. Revisions to other iPod models would also appear to be a reasonable expectation, although the report does not have confirmation as to whether they would be launched at the August event or held until the following month.
Rumors about the next-generation iPod touch have been circulating in recent weeks, with continuing evidence in both software betas and parts leaks suggesting that we can expect a front-facing FaceTime camera in the new iPod touch.
The rumored timeframe for Apple's media event also corresponds to a claimed August 17th release date for iLife '11. It is not immediately clear how an iLife update would directly relate to Apple's typically tightly-focused iPod events held around this time of the year, but rumors have also claimed that Apple will be introducing a new mystery application in the suite, and it is possible that the addition could be tied into iPod/iOS enhancements.