Apple Adds Email-Based FaceTime Support in iOS 4.1 Beta 3
Apple's latest beta version of iOS 4.1 released earlier this week has offered the strongest evidence yet that the company is planning to roll out FaceTime video calling functionality to future non-iPhone devices based on the iOS operating system. A new option in the iOS "Contacts" application allows users to make FaceTime calls using either a phone number or an email address. This would allow FaceTime compatibility with devices not associated with a phone number such as future camera-enabled iPads and iPod touches.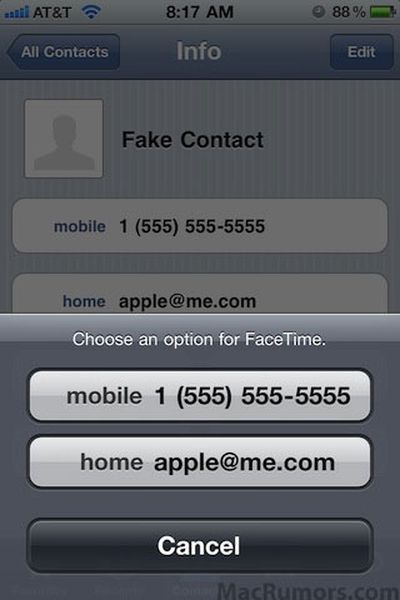 The first evidence
for email address compatibility with FaceTime was unearthed last month, with alleged screenshots showing settings offering the option to associate email addresses with the FaceTime functionality.
Apple is widely believed to be preparing to add at least a FaceTime-compatible front-facing camera to the next-generation iPod touch, rumored for introduction next month. Several photos of claimed next-generation iPod touch parts have surfaced showing a hole in the front LCD/digitizer assembly appropriate for a front-facing camera. Apple's iPad has also been the subject of speculation regarding a front-facing camera, although no substantial evidence of such hardware has yet surfaced and a timetable for a refresh of the device remains unknown.