New Images of 4th Generation iPod Touch LCD with FaceTime Camera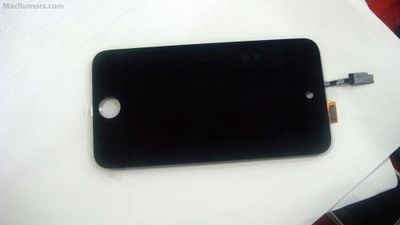 An
iPhone parts supplier
sent us these photos of what are claimed to be the front LCD and bezel of the upcoming 4th generation iPod Touch. The new part clearly shows a front-sided hole that would leave room for a front-facing FaceTime camera.
While we've seen similar parts before, this part is clearly marked as an Apple part "Apple (c) 2010". This stamp is visible in the full resolution image. The part is also stamped with April 29, 2010, indicating that the build date is relatively recent. We've seen other iPod Touch parts circulating in the past. In particular, a back-side camera model reached a late prototype stage last year but was never released.
Apple is widely expected to release new iPod Touch devices this fall. Rumors had already pegged the new Touch to likely carry a front-facing camera. Apple will be using email addresses instead of phone numbers to initiate FaceTime calls.