Analyst Claims September Launch for New iPod Touch, Smaller iPod Nano, Two New MacBook Air Models
Barron's reports on a new research note from BMO Capital analyst Keith Bachman claiming multiple new product releases for Apple next month, including several iPods as expected and two new MacBook Air models said to be scheduled to ship in high volumes.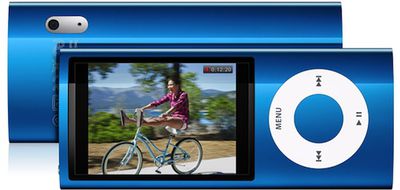 For Apple's iPod line, Bachman reports that the company will launch a new iPod touch, as well as a smaller iPod nano that could see the elimination of the iPod shuffle.
For starters, he sees the company launching two new iPods in September - a new Touch, and a new Nano. He says the Nano will be "much smaller" than past versions, and won't have a physical track wheel.
The elimination of a physical navigation wheel would imply a move to a touch screen, and it is unclear what sort of interface Apple would use on such a device. A claimed 1.7-inch Apple touch screen surfaced early last month, but that screen would be significantly smaller than the current iPod nano's 2.2-inch screen and its square aspect ratio would be a very significant departure from the current iPod nano's widescreen display useful for handling video shot with the device's integrated camera.

Bachman also matter-of-factly reports that Apple will launch two new MacBook Air models next month.
"We are not yet clear on all the specs, but supply chain checks suggest that unit shipments of the new Air products could far exceed the current Air, which we believe could suggest lower starting prices," he writes.
According to our Buyer's Guide, the MacBook Air is long overdue for an update, having last seen a refresh in June 2009. One report has claimed that the MacBook Air will see a shift to an 11.6-inch display from the current 13.3-inch screen size in a revision set to debut before the end of the year.