iPad Competitors Begin to Disappear Even Before Being Released [Updated]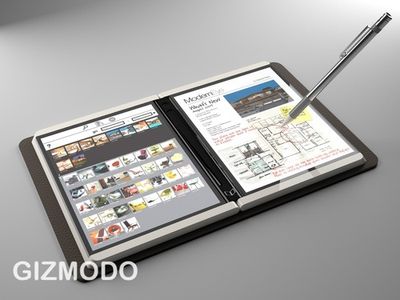 Microsoft's "Courier" booklet-style tablet concept
Silicon Alley Insider
yesterday
noted
that HP appears to be putting its "slate" tablet computer on hold as it looks to complete its
acquisition of Palm
. The move appears to be related to HP needing to make decisions about how exactly it will integrate Palm's webOS smartphone operating system into its product roadmap.
An analyst asked what HP would be doing with its iPad-rival. HP's Todd Bradley responded, "We haven't made roadmap announcements," but that HP will explain its Slate plans in more detail when the Palm deal closes.
That's at least a few months away: HP expects the deal to close during its fiscal third quarter, which ends at the end of July. And building Palm's WebOS operating system into HP tablets could take much longer -- perhaps even a year or more.
HP's slate, previously destined to use Microsoft Windows, was demoed by Microsoft CEO Steve Ballmer in early January, several weeks before Apple introduced the iPad. The following month, HP indicated that it was refining the final specs of the slate in response to the iPad and looking to price it competitively with Apple's tablet device.
Today, Gizmodo reports that Microsoft has cancelled its own "Courier" booklet-style tablet device.
We're told that on Wednesday, Microsoft execs informed the internal team that had been working on the tablet device that the project would no longer be supported. Courier had never been publicly announced or acknowledged as a Microsoft product.
The cancellation was confirmed in a response from a Microsoft representative, who noted that Courier was one of the company's creative explorations of new form factors and interfaces, but that it is not planned to go into production. The Courier concept offered two touch-sensitive screens in a foldable format and incorporated touch, stylus, and handwriting recognition input.
Update: TechCrunch confirms that HP is killing off its Windows 7-based slate project and even considering abandoning the Intel-based hardware for it due to excessive power requirements. Consequently, HP looks to be pursuing Google's Android and Chrome operating systems for its own tablets, as well as moving to convert webOS to a tablet operating system.