Microsoft's Prototype Multi-Touch Tablet/Booklet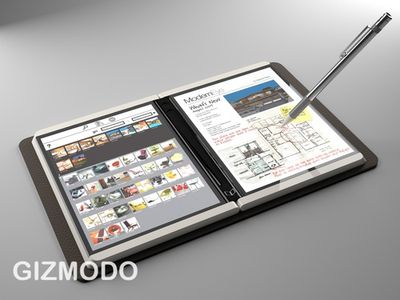 Gizmodo reveals
some details about a top secret Microsoft project working to introduce a new booklet device with dual 7-inch multi-touch screens.
The dual 7-inch (or so) screens are multitouch, and designed for writing, flicking and drawing with a stylus, in addition to fingers. They're connected by a hinge that holds a single iPhone-esque home button. Statuses, like wireless signal and battery life, are displayed along the rim of one of the screens. On the back cover is a camera, and it might charge through an inductive pad, like the Palm Touchstone charging dock for Pre.
The concept video provided shows the device in use. It incorporates a stylus with handwriting recognition, swipe gestures, and multi-touch actions including pinch zoom.
All the visuals of the devices appear to be concept mockups rather than showing an actual device in action. While
Gizmodo
describes the device as "late prototype",
Engadget
claims it isn't near production. Meanwhile, Apple has been
rumored
to be entering the tablet market as early as 2010.