The Wait for New MacBook Pros Continues, More Best Buy SKUs Found
Earlier this week, we noted that an image had been posted to our forums purportedly showing Best Buy's internal inventory system listing three unknown Apple products described only as "Dummy SKUs" and serving as placeholders for expected future products. While screenshots from Best Buy's systems have generally been unreliable, one such posting last year did turn out to presage the release of an updated MacBook, so we do tend to make note of these occurrences.
AppleInsider today publishes a detail page for one of the entries shown in our previously-published screenshot, showing an "In Stock Date" of March 14th for the unknown product. No other significant information beyond that already visible in the earlier screenshot can be seen on the new image.
For comparison purposes, last year's screenshot showed a valid UPC code and model number for the unreleased MacBook, data not included on the new screenshot and therefore resulting in significantly less confidence that Best Buy possess specific knowledge of a new Apple release. Also notable is that last year's screenshot listed an "In Stock Date" of May 31st, 2009 when the update was actually released on May 27th. Whether Best Buy had simply been guessing at a release date or if it was simply scheduled to receive its first shipments a few days after Apple's release is unknown.
Gizmodo today also publishes a screenshot from the inventory system at a Canadian Best Buy showing a slew of dummy SKUs for unidentified Apple products. The source also notes that he saw "fully-speced high end iMacs in inventory that were not in stores yet," but it is unclear exactly what the source might be referring to.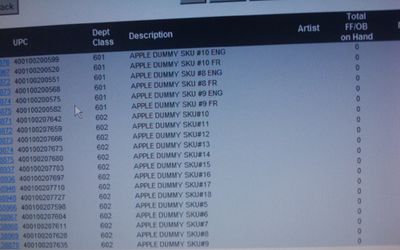 Regardless of whether the screenshots reflect actual knowledge on the part of Best Buy of Apple's product release plans, an update to Apple's MacBook Pro line is
widely expected
in the near future. Apple is expected to adopt Intel's new
mobile processors
for its next refresh, and apparent
benchmarking data
for one such model appeared online in recent weeks, further stoking anticipation of a revision.