Unreleased Core i7 MacBook Pro 6,1 Benchmarked? Supplies Constrained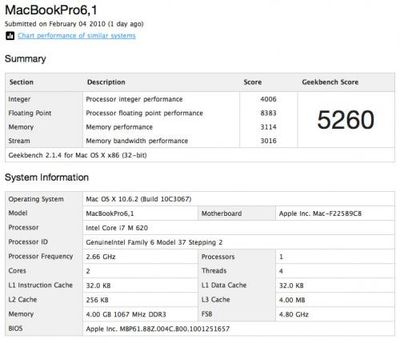 A
Geekbench
result posted to their site on February 4th has generated a lot of excitement in
our forums
. The report seems to reveal the results for an unreleased Arrandale MacBook Pro running at 2.66GHz. Intel officially
unveiled
the new latest mobile chips at CES 2010 and Apple has been widely expected to use them in their next MacBook Pro revisions.
The MacBook Pro gives a "6,1" model designation and a non-shipping build of Mac OS X 10.6.2 (Build 10C3067). The 6,1 designation has been spotted before in recent builds of Mac OS X 10.6.2. The later build number is also consistent with the kind of interim builds Apple provides with brand new hardware.

The processor is listed as an Intel Core i7 M 620 running at 2.66GHz. The final benchmark score of 5260 compares favorably to identically clocked (2.66GHz) shipping MacBook Pros (3700-4000). The Core i7 M 620 is a
high end dual core
processor with Turbo Boost and Hyperthreading.
Apple's MacBook Pros are due for updates and Intel's new mobile processors are the most likely candidates. While we haven't heard any solid evidence, there have been rumblings from international resellers that Apple's MacBook Pros supplies have been constrained. Supplies can be constrained for any number of reasons, but the timing does fit with a MacBook Pro refresh.