Apple Releases Minor Update to White MacBook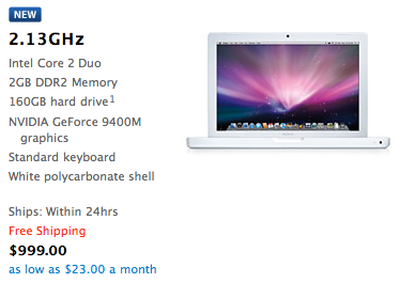 Apple today quietly bumped the specs on the
white MacBook
. Changes to the base specs include:
- Processsor speed bumped from 2.0 GHz to 2.13 GHz.
- RAM speed bumped from 667 MHz to 800 MHz.
- Hard drive capacity increased from 120 GB to 160 GB. Build-to-order options up to 500 GB are now available, up from a previous maximum of 320 GB. Notably, the aluminum MacBook and MacBook Pro continue to offer maximum hard drive capacities of 320 GB.
In addition, Apple now advertises battery life of "up to 5 hrs wireless productivity", an increase over the previous advertised battery life of 4.5 hours. Finally, the new MacBook is advertised to meet new Energy Star Version 5.0 requirements and is rated EPEAT Gold, compared to a Silver rating on the previous model.
Base pricing remains at $999.
Notably, the unidentified "Mobile Computing" device that appeared in Best Buy's inventory system earlier this week was in fact this updated white MacBook.