Mac mini
Updated on October 16, 2014.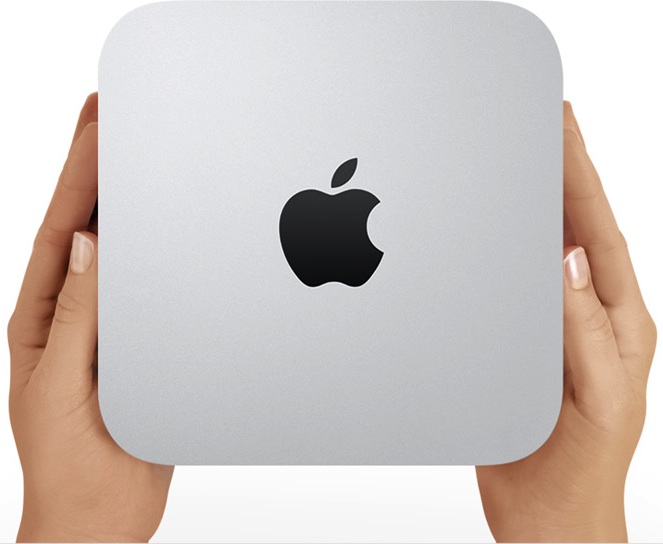 At a Glance
Less powerful than other Apple desktop offerings like the iMac and the Mac Pro, the Mac mini is Apple's most affordable and compact desktop computer that's billed as a "bring your own display, keyboard, and mouse" device. It was updated on October 16, 2014, adding Haswell processors, 802.11ac Wi-Fi, PCIe-based flash storage in some models, and Thunderbolt 2.
Features
Haswell processors
Intel 5000/Iris integrated graphics
802.11ac Wi-Fi
Thunderbolt 2
OS X Yosemite
Prices starting at $499
This page is current as of 14 weeks ago
What's New in 2014
The Mac mini is Apple's smallest desktop computer, positioned as a "bring your own" machine that comes without a mouse, keyboard, or display.
As Apple's least powerful desktop, it only comes equipped with a dual-core processor like much of the company's lineup of portable computers, while its more powerful siblings, the Mac Pro and the iMac, are available in quad-core and higher configurations.
Apple last updated the Mac mini on October 16, 2014, after the compact desktop went more than two years without a refresh.
While the machine did gain several upgrades like Haswell processors with integrated Intel HD 5000/Intel Iris Graphics and 802.11ac Wi-Fi, the upgrade was a disappointment to many Mac mini fans as Apple ceased offering both a quad-core processor option and support for dual hard drives.
Unlike recent updates to the more popular Mac Pro and iMac, the Mac mini's 2014 update did not bring any design changes, and the machine continues to offer the same 1.4-inch thin 7.7-inch wide aluminum unibody enclosure that it's sported since 2011.
The Mac mini is the last in Apple's lineup to receive a Haswell upgrade aside from the non-Retina MacBook Pro, and while the new processors bring improved single-core performance, multi-core performance is not impressive compared to the older quad-core 2012 Mac mini.
Along with new processors and 802.11ac Wi-Fi, the Mac mini has gained two Thunderbolt 2 ports, which are accompanied by four USB 3.0 ports, an HDMI port, an SDXC card slot, a Gigabit Ethernet port, an audio in port, a headphone port, and an IR receiver.

The low-end and mid-tier Mac mini models continue to ship with a 500 GB 5400-rpm hard drive, but upgrade options include 1TB Fusion Drives and fast PCI-based flash storage.
With the Mac mini update, Apple eliminated the quad-core Mac mini with OS X Server option, which previously included 2TB of storage. The new Mac minis ship with a maximum of 2TB of storage, but the introductory model did see a $100 price drop.
Models
The Mac mini is available in three different stock configurations and at three separate price points: $499, $699, and $999. On the low end, the Mac mini ships with a 1.4GHz dual-core Core i5 processor, 4GB of RAM, a 500GB hard drive, and Intel HD Graphics 5000.

At the middle tier, the Mac mini comes with a 2.6GHz dual-core Core i5 processor, 8GB of RAM, and a 1TB hard drive, and Intel Iris Graphics. At the high end, the Mac mini ships with a 2.8GHz dual-core Core i5, 8GB of RAM, a 1TB Fusion Drive, and Intel Iris Graphics.
Build-to-Order Options
The entry-level Mac mini can be upgraded with 8 to 16GB of RAM and a 1TB Fusion Drive.
The mid-level Mac mini can be upgraded with a 3.0GHz dual-core Core i7 processor, 16GB of RAM, a 1TB Fusion Drive, or 256GB flash storage.
The high-end Mac mini can be upgraded with a 3.0GHz dual-core Core i7 processor, 16GB of RAM, and up to 1TB of PCIe-based flash storage or a 2TB Fusion Drive, an option that was added in December of 2014.
A top of the line Mac mini with a 3.0GHz processor, 16GB of RAM and 1TB flash storage is priced at $2,199 before taxes.
Upgradeability
A teardown of the 2014 Mac mini revealed that user-installed upgrades for the machine range from difficult to impossible. The RAM is soldered and thus not user replaceable, and while the hard drive is accessible, it is located behind a practically non-removable cover that's protected with Torx Security screws.
The 2014 Mac mini earned a repairability score of 6 out of 10, worse than the 2012 Mac mini's 8 out of 10 score.

Because the RAM on the machine is not user accessible, those who purchase Mac minis are limited to 16GB of RAM that must be acquired directly from Apple when purchasing the machine. That severely shortens the life of the Mac mini and forces users into purchasing expensive RAM upgrades, a factor that should be taken into consideration when deciding whether or not to purchase a new 2014 Mac mini.
Commenters on the MacRumors forums have expressed significant unhappiness with the Mac mini upgrade as it is, in many ways, a downgrade from 2012 models that offered quad-core processors and improved upgrade options.
CPU Performance
While the 2014 Mac mini sees improved single-core performance in benchmarks due to the Haswell processors added to the machines, the same is not true when it comes to multi-core performance.
According to Geekbench 3 benchmarks, the high-end late 2012 Mac minis that shipped with quad-core Ivy Bridge processors offer better multi-core performance than the new 2014 dual-core Haswell Mac minis. Two less cores results in significantly decreased performance on multi-core tests, with the higher-end 3.0GHz Core i7 Mac mini scoring 70 percent worse than 2012 models.

Operating System
The Mac mini will ship with Apple's newest operating system, OS X Yosemite. Released to the public on October 16, Yosemite brings a complete design overhaul to Apple's desktop operating system, focusing heavily on translucency.

Several apps and OS elements take design cues from iOS 7, and an array of new features introduce unprecedented levels of integration between OS X and iOS.
More on OS X Yosemite can be found in our dedicated Yosemite roundup.
Which Mac mini to Buy
Planning to buy a new Mac mini? Make sure to check out our guide on which Mac mini to buy, which provides a walkthrough of each of the three different models, the differences between them, available Mac mini upgrades, and other cost considerations to take into account when purchasing a Mac mini.
How to Buy
Apple's new Mac mini became available for purchase directly after its October 16 introduction. It can be bought from the online Apple Store, with all base configurations displaying shipping estimates of 1 to 3 business days. Custom configurations ship in 3 to 5 days, and the machines will be in Apple retail stores in the near future.
Best Prices





What's Next
Given Apple's seeming lack of interest in the Mac mini and its recent 2014 upgrade, it's unlikely a new version of the desktop computer will come during 2015.
In the past, the Mac mini saw upgrades in 2006, 2007, 2009, 2010, 2011, and 2012 before going sans upgrade for two years after a late 2012 update.

MacRumors attracts a broad audience of both consumers and professionals interested in the latest technologies and products. We also boast an active community focused on purchasing decisions and technical aspects of the iPhone, iPod, iPad, and Mac platforms.
Advertise on MacRumors
Our Staff