Mac mini
Haswell update due anytime.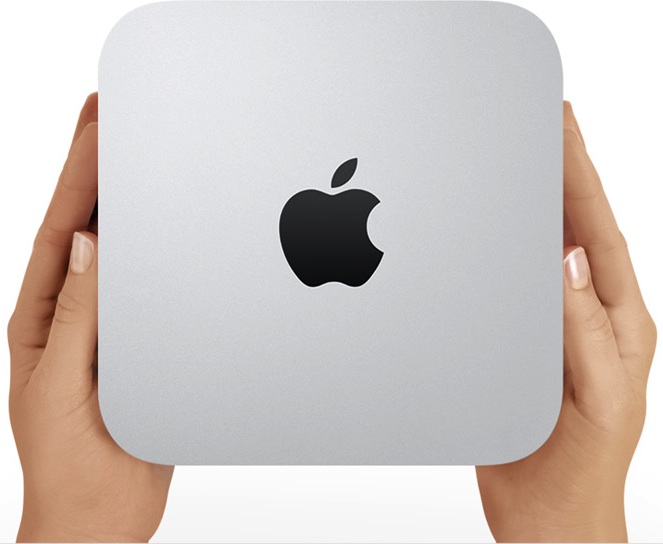 At a Glance
Less powerful than other Apple desktop offerings like the iMac and the Mac Pro, the Mac mini is Apple's most affordable and compact desktop computer. Billed as "Bring your own display, keyboard, and mouse" device, It is available in both standard and Server configurations.
Likely Specs
Haswell processors
Iris integrated graphics
802.11ac Wi-Fi
OS X Mavericks
Prices starting at $599
What We Expect
Apple's Mac mini was last updated in October of 2012, gaining quad-core Core i7 processors, upgraded RAM, and Intel HD Graphics 4000. The desktop computer is now due for another update, which at this time would include Intel's higher-performing Haswell processors and Iris integrated graphics.
While the Haswell processors would likely result in modest speed gains as seen in MacBook Air benchmarks, graphical performance should see solid improvements. According to Intel, its Iris integrated graphics are able to double or triple the performance of existing Ivy Bridge chips.

The Mac mini will probably see a minimum hard drive increase to 1TB, and will continue to offer traditional hard drives and Apple's Fusion Drive, combining a standard 1TB hard drive with flash storage for shorter boot times and quicker file access. Apple's recently introduced iMacs can be configured with faster PCI Express-based flash storage options (including the Fusion Drive), and it is likely the same upgrades will be offered for the Mac mini.
Apple has been implementing next-generation 802.11ac Wi-Fi with all of its recent Mac updates, and the Mac mini is expected to receive the same treatment. This "Gigabit" Wi-Fi offers speeds three times as fast as existing 802.11n wireless networks and can reach speeds of 1 Gigabit per second.
The current Mac mini also includes a Thunderbolt port, a Firewire port, multiple USB 3.0 ports, an SDXC card slot, and an HDMI port.

There have been no hints that the Mac mini will be receiving a redesign, but its look was last updated in 2010 and Apple has since revamped both the iMac and the Mac Pro, which leaves the Mac mini next on the desktop redesign list.
The Operating System

Apple's upcoming Mac mini would ship with OS X Mavericks if released over the next few months. Released in October 2013, OS X 10.9 Mavericks includes a number of significant improvements, including a revamped Finder with tabs and tags for easier file management, better support for multiple displays and new apps like Maps and iBooks. All in all, Mavericks includes more than 200 new features that will offer an unprecedented level of integration between OS X and iOS.
Mavericks Server also offers several different enhancements to existing OS X Server software, including improvements to Xcode Server, Caching Server 2, and the Profile Manager, which now includes new management features designed to simplify the software distribution of apps and books.
Apple has begun developer testing of its next-generation OS X Yosemite operating system, but it will not see a public release until the fall of 2014.
Pricing
With the last 2012 update to quad-core processors, the pricing of the Mac mini stayed the same, suggesting that Apple will continue to offer the same price points for potential Haswell Mac minis. The entry level dual-core Mac mini is currently available for $599, the quad-core version is priced at $799, and the OS X Server version with two 1TB hard drives is priced at $999. All versions will include various add-ons that improve processor speed, storage space, and RAM.
Release Date
Though July 2013 shortages of the Mac mini suggested that a release could come during the summer months, an updated Mac mini has still yet to appear. Apple's October 22, 2013 media event seemed like an opportune time for the company to unveil Haswell Mac minis, but no announcement was made. In January of 2014, a Belgian website listed placeholders for a new Mac Mini expected to launch in February, but the website was later updated to remove the information and no Mac Mini update materialized, leaving a possible launch date up in the air.
Even Apple's 2014 Worldwide Developers Conference keynote passed without a mention of the Mac mini or other new hardware, and it is unclear what Apple's plans are for the machine now that even Haswell is becoming an aging chip line with its successor Broadwell coming in late 2014 or early 2015.
In July, a reference to an unreleased mid-2014 Mac mini appeared on an Apple support page, perhaps suggesting a Mac mini update is in the works. Given a lack of rumors pointing towards a Mac mini refresh, however, it is possible that the mention was simply an error on Apple's part.
Most recently, MacRumors received a tip that Apple has a Mac mini update in the works, with a possible launch coming in October, alongside the new iPads and presumably OS X Yosemite. There were no additional details on what to expect for the next-generation Mac mini, but the source who supplied the information has provided us with accurate data in the past.

MacRumors attracts a broad audience of both consumers and professionals interested in the latest technologies and products. We also boast an active community focused on purchasing decisions and technical aspects of the iPhone, iPod, iPad, and Mac platforms.
Advertise on MacRumors
Our Staff