iPod nano
Apple's mid-range iPod.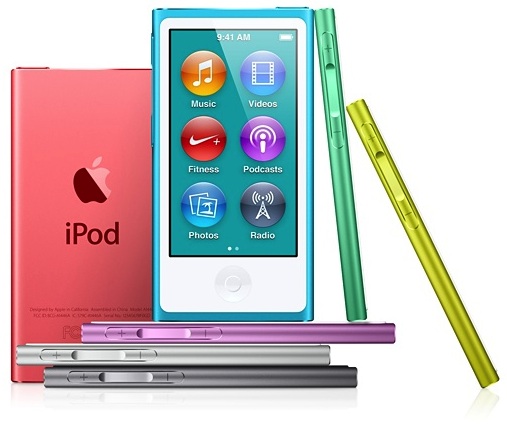 At a Glance
The iPod nano saw its last significant update in September 2012, with a minor September 2013 seeing only the replacement of the previous "slate" color option with "space gray". There have been no credible rumors about the future of the iPod nano, and it remains unclear what Apple's plans are for the line.
Current Specs
$149 for 16 GB
Eight color options including (PRODUCT) RED
This page is current as of 18 months ago
What's New

At its iPhone media event on September 10, 2013, Apple introduced a new Space Gray color option for its iPod lineup, replacing the previous black or slate option on the iPod touch, iPod nano, and iPod shuffle. The color was featured as part of the iPhone 5s introduction, but also quietly made its way into the iPod lineup.
No other changes were made to the iPods at or just after the event, but the minor color option change suggests that no additional updates to the products should be expected for some time.
In More Detail
Perhaps more than any other iPod product, the iPod nano has been the subject of significant experimentation by Apple, with the company trying out a number of different form factors based on a click wheel interface before moving to an iPod shuffle-shaped design centered around a multi-touch screen and eventually settling on a design more like a miniature iPod touch with the current seventh-generation models released in October 2012.

2013 Seventh-generation iPod nano lineup (Product Red version not shown)
The current design includes a 2.5-inch multi-touch screen and a small home button similar to that found on iOS devices, while incorporating 16 GB of storage at a price of $149. The iPod nano does not, however, run iOS and instead runs custom software designed to look somewhat like iOS. The current models support video playback, Bluetooth 4.0 connectivity, and Apple's new Lightning connector, but do not include cameras of any sort.
The September 2012 introduction of the seventh-generation iPod nano included eight different color options: slate, silver, pink, yellow, green, blue, purple, and a special (PRODUCT) RED version. September 2013 saw only the replacement of the slate color option with a new "space gray" color that was highlighted on the iPhone 5s but also quietly brought to the iPod touch, iPod nano, and iPod shuffle. But even such a minor color change for the iPod shuffle lineup suggests that Apple is not planning any additional changes in the near future.

Sixth-generation iPod nano
Given its history as a "tweener" device that has appeared to suffer some identity struggles about whether to be a more powerful iPod shuffle with a small screen or a scaled down iPod touch with a mid-sized screen, it is difficult to predict where Apple plans to take the iPod nano next. But with the iPod nano perhaps finding itself a bit with the addition of a home button and multi-touch screen, Apple may opt to stick with the current design for some time.
With iPod sales continuing to fall and the iPod nano making up a relatively small portion of that shrinking segment, Apple is also likely to be scaling back investments in product updates, which may lead to the current design sticking around for the next several years.
During Apple's fourth quarter earnings call, CEO Tim Cook referred to the iPod as a declining business. Currently, iPod sales make a up just two percent of the company's revenue.