macOS Catalina
Apple's next-generation macOS operating system.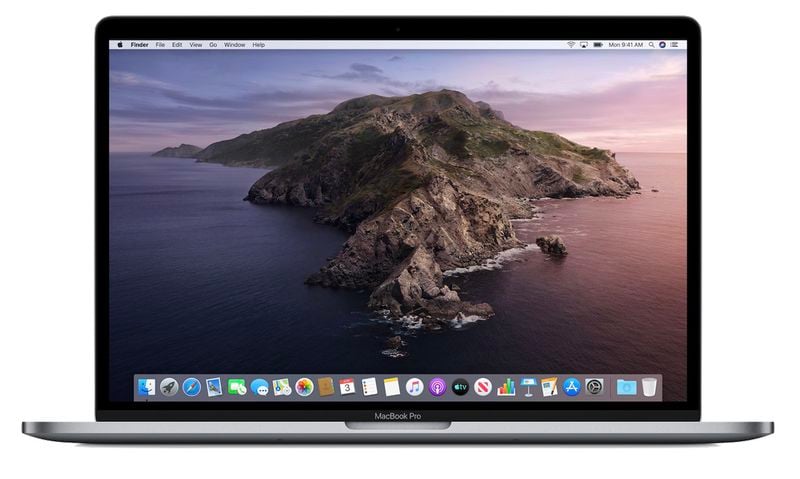 What's New in macOS Catalina
macOS Catalina, aka macOS 10.15, is an older version of the operating system that runs on the Mac. macOS Catalina's name was inspired by Santa Catalina Island, popularly known as Catalina and one of the Channel Islands off the coast of Southern California. macOS Catalina preceded macOS Big Sur.
In macOS Catalina, Apple has eliminated the iTunes app that's been a staple of the Mac operating system since 2001. iTunes was split into three apps: Music, Podcasts, and TV.
The new apps are similar in function to iTunes now, but are split up by feature. You can still manage your devices in Catalina, but it's now done through the Finder rather than through an app. Syncing media can be done using the Apple TV, Podcasts, or Music apps.
In the Music app, there's full access to the music library, just like in iTunes, regardless of whether the songs were purchased or ripped from a CD. The iTunes Music Store is included in the Music app, and you can access Apple Music content, too.
The Apple TV app is similar to the Apple TV app on the Apple TV and iOS devices, offering up access to TV and movie content along with content from Apple's streaming television service, Apple TV+. For the first time, the new TV app supports 4K HDR content on 2018 and later Macs along with Dolby Atmos.
In the new Podcasts app, users can access their Podcasts library, which was previously housed in iTunes. There are features for browsing, viewing top charts, and managing the library, plus new editor-curated categories. Podcasts is a simple app, but useful for those who listen to a lot of podcasts.
A new Sidecar feature lets you turn your iPad into a display for your Mac with just the click of a button. Apple Pencil support works with the iPad with Sidecar, so you can turn your iPad into a drawing tablet in apps like Photoshop. You can extend your display or mirror it so both screens display the same content.
macOS Catalina ramps up the security in macOS, and Gatekeeper, Apple's security protocol, checks all your apps for known security issues. New data protections also require apps to get your permission before accessing your documents.
For those with an Apple Watch set up to unlock the Mac, there's now an option to approve security prompts by tapping on the side button of the watch. Macs with a T2 chip in them support Activation Lock for the first time, making them useless to thieves much as it does on the iPhone.
A new Find My app, also available in iPadOS and iOS 13, brings the Find My Mac and Find My Friends technology to a Mac app for the first time, and it has a feature that lets you track your devices even when they're offline. This option leverages Bluetooth and the devices of other people who might be around your lost or stolen device, relaying its location securely and anonymously back to you.
Screen Time has expanded to the Mac in macOS Catalina, so now you can track your device usage across all of your devices, not just iPhone and iPad, for a better picture of how you're spending your time.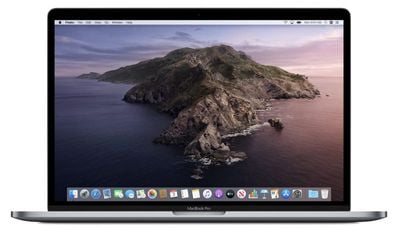 Mac Catalyst lets developers port their iPad apps over to the Mac with just a few clicks in Xcode and minor tweaks, which ultimately brings a greater number of macOS apps to the Mac App Store.
There's a new Photos interface that organizes pictures by day, month, or year, while also intelligently choosing your best photos (while cutting out screenshots, receipts, and other less desirable images) so you can relive all of your favorite memories.
In Safari, there's a new start page that uses Siri Suggestions to display frequently visited sites, bookmarks, iCloud tabs, Reading List selections, and links you've been sent in Messages for a more personalized Safari start page.
Mail in macOS Catalina adds new features for blocking emails from specific senders, muting threads, and unsubscribing from commercial email lists. There's a new Gallery View in Notes, along with new view-only collaboration options and folder sharing.
As on iOS, the Reminders app has been overhauled, introducing a new user interface, smart lists, attachment support, and Messages integration to make it easier to create and and organize your reminders. Voice Control, an Accessibility option, lets users who can't use a Mac in the traditional way operate their machine using solely voice commands through Siri. This feature also works on iOS 13 and iPadOS.
Your 32-bit apps no longer work in macOS Catalina, and you'll get a warning when you install the update for the first time. macOS Catalina supports 64-bit apps only, and that means that some of your older apps that haven't been updated for a while won't run at all. The Dashboard feature, which has long been disabled by default, has also been officially removed in Catalina.
Apple released macOS Catalina to the public on October 7, 2019.
Note:
See an error in this roundup or want to offer feedback?
Send us an email here
.
Current Version - macOS 10.15.7
The current version of macOS Catalina is macOS Catalina 10.15.7, which was released to the public on September 24. macOS Catalina 10.15.7 addresses an issue where macOS would not automatically connect to WiFi, it fixes a bug that could prevent files from syncing through iCloud Drive, and most notably for new iMac owners, it fixes an issue that was causing a small white flashing line to appear on machines equipped with the Radeon Pro 5700 XT. Release notes are below:
macOS Catalina 10.15.7 provides important security updates and bug fixes for your Mac.
Resolves an issue where macOS would not automatically connect to Wi-Fi networks
Fixes an issue that could prevent files syncing through iCloud Drive
Addresses a graphic issue that may occur on iMac (Retina 5K, 27-inch, 2020) with Radeon Pro 5700 XT
Apple has also released a macOS Catalina 10.15.7 update that includes several security fixes for macOS vulnerabilities. Apple recommends that all Catalina users install the update.
No More iTunes
macOS Catalina does away with the iTunes app that's been available on the Mac since 2001, eliminating it in favor of a new series of split up apps that do much of what iTunes used to do.
There are new Music, Podcasts, and TV apps in macOS Catalina, all of which replace the single iTunes app that used to house music, podcast, and tv-related content. Device management capabilities, which used to be housed in iTunes, are now available through Finder.
Home Sharing has not been eliminated in macOS Catalina, and remains available. It can be accessed by going to System Preferences > Sharing -> Media Sharing and selecting the box next to the Home Sharing option. Home Sharing in Catalina does not require you to have an app open for it to work.

Apple Music
The Music app uses the former iTunes logo, with a music note on a field of white. It looks similar to the Music function housed in iTunes in Mojave, offering up access to music you've purchased, imported, or acquired through Apple Music. Apple says the Music app has been designed for Apple Music, but older features remain as well for non-subscribers.
Your iTunes Music Library is accessible in the Music app, as are all of your playlists and smart playlists. All of your Music is in one spot, organized by artists, albums, songs, playlists, and recent additions via a new menu in the sidebar.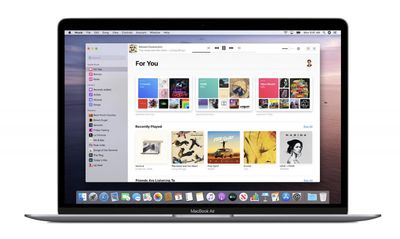 Apple Music subscribers see "For You," "Browse" and "Up Next" sections for browsing through Apple Music.
The iTunes Store is available for music purchases, so if you prefer traditional music purchases over streaming services, it continues to be an option. You can still import music from third-party sources (such as ripping songs from CDs), and there are conversion tools available too.

There's an updated player in the Music app, which offers up easy access to Lyrics while you listen, along with a spot where you can see what songs are going to play next.
Apple Podcasts
Apple designed a standalone Podcasts app for macOS Catalina, which replaces the podcasts functionality available in iTunes in earlier versions of macOS.
A "Listen Now" feature lets you continue to listen to your favorite podcasts episodes or see when a new episode in a series you like is available, and it's also the go-to spot for finding new recommendations you might like.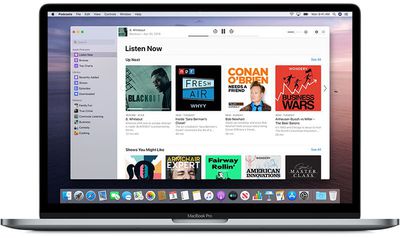 A Browse tab offers up picks from Apple editors, including podcasts focusing on current events, New & Noteworthy selections, Curated Collections, Categories, and more, plus Top Charts lets you see the most popular trending podcasts that are available.

The Library section of the app houses all of the podcasts that you're subscribed to, organized into Recently Updated, Shows, Episodes, and Downloads, which includes episodes you've downloaded for offline listening. Apple says that search has been enhanced with better results when looking for a topic or people, with a new option to find episodes featuring a specific guest or host.
Apple TV
The new Apple TV app includes a "Watch Now" feature like on iOS and Apple TV, which offers up personalized recommendations of things that you might want to watch along with keeping track of shows that you're currently watching through an "Up Next" feature.

You can start a show on any of your Apple devices and pick it up on another device now that the TV app is available on the Mac. With the Channels feature, you can subscribe to and watch subscription content right in the Apple TV app, and later this year, the app also houses Apple TV+ content.

There's also a Library feature that houses all of the TV shows and movies that you've purchased from iTunes, along with Movies, TV Shows, and Kids tabs for both discovering new content and making movie and TV show purchases or rentals.

4K, 4K HDR, and 4K Dolby Vision content purchased from the Apple TV app can be watched in 4K on Mac models introduced in 2018 or later with 4K resolution screens. Mac notebooks released in 2018 or later can also take advantage of Dolby Atmos.
Managing Devices
Apple TV, Apple Music, and Apple Podcasts content can be synced using iCloud across all of your devices, but for those who prefer using cables and syncing directly from a Mac, that functionality is still available from each of the three apps.
You can still back up, update, and restore your iOS devices using your Mac through the Finder. When you connect an iOS device to a Mac with a cable, it's now located in the Finder sidebar, where you can find all of the tools and functionality previously available through iTunes.
Sidecar
Sidecar is designed to let you use an iPad as a secondary display with your Mac. You can hold your mouse over the green button on any Mac app window to get into Sidecar mode with an available iPad, you can access it from the System Preferences app, or you can access it from the AirPlay interface on the Mac.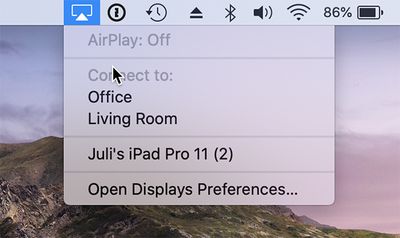 Sidecar lets you either mirror your display or extend it to the iPad, and because the Apple Pencil works in Sidecar mode, you can use the Apple Pencil as a mouse or as a drawing implement in apps like Photoshop.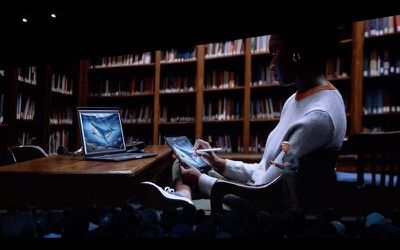 Whatever you do on the iPad, such as creating a sketch in Photoshop, is actually being done on the Mac, so it can turn the iPad into a Mac-connected drawing tablet. You can also do things like write and sketch on PDFs or mark up documents using the Markup feature on the iPad.

Commonly used controls are located on the sidebar, and modifier keys can be used to enable shortcuts in pro apps as well as display or hide the menu bar, dock, and keyboard. Apps that use the Touch Bar display a virtual touch bar at the bottom of the iPad screen, even for Macs that don't have a Touch Bar.
Sidecar works with the new iPadOS multi-touch gestures, so with the Mac's display extended or mirrored, you can use touch gestures for cutting, copying, pasting, and undoing all on the on-screen keyboard.
Sidecar works seamlessly on supported devices, but it is limited to newer Macs. Sidecar is known to be compatible with the following machines:
Late 2015 27" iMac or newer

2017 iMac Pro

Mid 2016 MacBook Pro or newer

Late 2018 Mac mini or newer

Late 2018 MacBook Air or newer

Early 2016 MacBook or newer

2019 Mac Pro
On the iPad, Sidecar is limited to iPad models that support the Apple Pencil.
You can use Sidecar wirelessly with up to 10 meters of distance between the iPad and the Mac, or you can use a cable to keep your iPad charged. For more on Sidecar, make sure to check out our Sidecar guide.
Find My
Find My is a new app that combines the Find My Mac feature previously available via iCloud and the Find My Friends apps from iOS devices into one app that's available on iOS and, for the first time, Mac.
The Find My app is designed to make it easy to locate your devices and your friends who are sharing their location in a single app.
Find My works like the previous Find My iPhone and Find My Friends apps, displaying device and friend locations, but there's a new feature that lets you find a missing Mac even when it doesn't have a WiFi or cellular connection.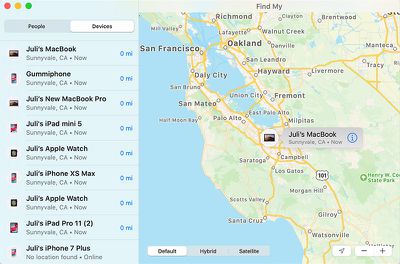 The Find My feature works by utilizing crowd-sourced location information delivered through Bluetooth signals. Basically, your devices give off a Bluetooth signal that can be picked up by other nearby iPhones, iPads, and Macs, relaying that signal back to you so you can find your missing device.
Find My uses end-to-end encryption to keep your location safe, so it requires at least two Apple devices to work, aka your Mac and an iPhone or other device.
The signal that your Mac gives off is broadcast as a public key, which, when picked up by other people's devices, is encrypted and sent back to you with the location of your device. Only another one of your devices can decrypt that encrypted signal with info from the lost device, keeping your device location secure at all times.
If you have Family Sharing enabled, you can see your family's devices under your own devices in the Find My app, just as you can with the prior Find My iPhone/Mac tools.
New App Features
Photos
Apple in macOS Catalina and iOS 13 redesigned the Photos app, implementing a new Photos tab that's designed to put your best photos front and center so you can relive your memories at a glance.
The app lets you view all of your photos like before, but it also has new options for viewing images organized by day, month, and year. These viewing modes filter out clutter like screenshots, duplicate images, and photos of receipts so you can see your most significant moments without the cruft.

In the new Photos tab, muted Live Photos and videos play as you scroll, which has the effect of bringing your photo library to life. The best of your photos are also shown larger, accompanied by smaller shots, making your photo library more dynamic.

The Days view shows the photos you've taken that day, while the Months view presents your photos categorized into events so you can see the best of the month at a glance. The Years view surfaces photos taken around the current date on past years.

Apple highlights titles like location, concert performer, holiday, and more, and under the "All" view, you can zoom in or zoom out to see more or less of your entire photo library at one time.
Using the machine learning capabilities of your Mac, the Photos app can recognize who is in your photos and what's happening to highlight moments like birthdays, anniversaries, and trips.
Safari
There's a new start page in Safari that offers up favorites, frequently visited sites, and Siri suggested content like websites in your browsing history, recently visited sites, bookmarks, content from your reading list, iCloud Tabs, and links you receive in the Messages app.

Safari now provides weak password warnings when you're signing up for a new account and using a weak, easy to guess password. Safari tells you that it's a weak password and offers a stronger replacement password.
There's also a new option to enable the Picture in Picture feature from the tab audio button, and Apple is now allowing iCloud logins in Safari to be authenticated with Touch ID in macOS Catalina.
Notes
macOS Catalina features an updated Notes app with a new gallery view, designed to let you see all of your folders and Notes thumbnails at a glance. New tools let you manage folders and subfolders, and there are options for sharing an entire folder.
Search is more powerful in the Notes app and can recognize what's in the images inside of your notes to help you find specific text like receipts or bills.

Checklists have been improved with options to reorder checklist items, indents (added with a swipe), and a feature that lets you reuse a checklist with a click to uncheck all of the items.
Mail
A new Block Sender option in Mail lets you block email from a specific person, routing all of the messages from that person into the trash.
Noisy email threads can be muted with a new mute option that silences all notifications across all of your Apple devices.
Apple now offers an unsubscribe link for email messages from commercial lists above the email header, and clicking it removes your email address from the mailing list.
Reminders
The Reminders app was completely rebuilt in iOS 13 and macOS Catalina to make it much more functional and to replicate features found in more robust third-party apps.
The new Reminders app features an updated design organized into four sections: Today, Scheduled, All, and Flagged.

Reminders are organized into different lists, with customizable colors and icons. Under each reminder entry, you can create additional nested reminders, and multiple lists can be grouped together.
When creating a new Reminder, there are options to add attachments, photos, documents, scans, and web links related to a reminder, and you can also include times, dates, locations, flags, and more all at once.
Apple says that when you type longer, more descriptive sentences in the Reminders app, it automatically understands and provide relevant suggestions to you. Siri intelligence can also bring up suggestions to create a reminder when you make a plan in Messages.
QuickTime Player
QuickTime Player has a picture in picture feature that lets you play a video in a resizable window that's not blocked by other windows, so you can watch it while working on other things.
There's also an improved Movie Inspector pane that shows you more in-depth technical information about the open media file such as video color space, HDR format, bit depth, scale, and aspect ratio.
Other new features include timecode support, transparent video support, and the option to create an H.264, HEVC, or ProRes-encoded movie file by navigating to a folder of sequentially numbered images and choosing a resolution, frame rate, and encoding quality.
Home
In iOS 13 and macOS Catalina, AirPlay 2 speakers can be used within HomeKit Scenes and Automations, allowing your AirPlay 2 devices like the HomePod to be set to do things like play music when you arrive home, or turn off when you leave.
You can also have music come on when a HomeKit sensor detects something like motion, or at a specific time of day.
HomeKit Secure Video
Secure Video is a new HomeKit API that uses the iPad, Apple TV, or HomePod (Home Hub devices) to analyze video captured by your smart home cameras right in your home. Video feeds are encrypted end-to-end and uploaded to iCloud, which means you alone see the video footage without the risk of hackers accessing it.
As with existing home security cameras, HomeKit Secure Video provides notifications if activity is detected so you can review the recordings.
Apple offers 10 days of free iCloud storage for video content that does not count against your iCloud data plan limits, but there's a bit of a catch - you need to have a 200GB iCloud data plan ($2.99/month) for a single camera, or a 2TB iCloud data plan ($9.99/month) for up to five home security cameras.
Netatmo, Logitech, and Eufy plan to support HomeKit Secure Video in the near future.
Other New Features
Apple Arcade
In the Mac App Store, there's a new "Apple Arcade" tab that offers up access to the Apple Arcade gaming service that Apple debuted in the fall of 2019. Apple Arcade provides subscriber with unlimited access to dozens of games that work across Mac, Apple TV, iPhone, and iPad.
Apple Arcade costs $4.99 per month and it allows up to six members of the same family to play games for that monthly fee. Apple Arcade games have no in-app purchases and no ads, with all gameplay included in the subscription price.
Revamped Apple ID Profile
The System Preferences app now features your Apple ID and profile front and center, providing access to your Apple Account and Family Sharing settings.
Clicking into your Apple Account presents several new options including an Overview mode, where you can make sure your account is signed in and that features are working.

Basic account and security details are available, such as name, phone number, email address, password, payment info, shipping info, and email preferences, and there's also a spot where you can access current subscriptions, past purchases, and settings for the App Store, Apple Music, Apple Books, and more
The Family Sharing section lets you see which subscriptions you're sharing and which services are turned on, while a list of all your devices is available on the side bar.
Screen Time
Screen Time, the iPhone and iPad feature introduced in iOS 12, expanded to the Mac with macOS Catalina. Screen Time on all platforms lets you get a clear picture of how much you're using your Mac, iPhone, and iPad.
Screen Time syncs Downtime and App Limits across all of your devices, and for parents, parental controls are available on all devices too.

New in Catalina and iOS 13 is a combined limits feature, designed to let you create limits with combinations of app categories, specific apps, or websites. There's also a new "One More Minute" feature, which, when a time limit is up, provides time to end a game, save your work, or end a conversation.
In an update coming this spring, Apple will add Communication Limits, letting parents control who children can communicate with icaand who can communicate with them throughout the day and during downtime.
Mac Catalyst
Mac Catalyst (previously known as Project Catalyst), which kicked off with iOS 12, is designed to allow iOS developers to port their iOS apps over to the Mac with a limited amount of work.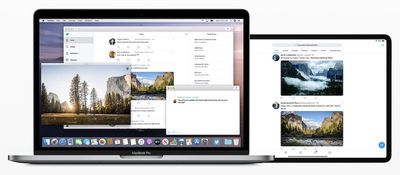 In macOS Catalina, developers are able to port their iPad apps over to the Mac, and in later updates, the functionality extends to the iPhone. The ability to port iOS apps over to Mac has brought more apps designed for the Mac to the Mac App Store.
Voice Control
Voice Control is a new Accessibility feature that lets you control your Mac entirely with your voice using Siri voice commands. It's also available on iOS devices, and is a useful control method for those who can't use traditional input methods.
Voice Control uses Siri for audio-to-text transcription for dictation purposes, and there's support for custom words. All processing for Voice Control is on device, ensuring data stays private.
You can use Voice Control to get word and emoji suggestions, and there are full rich text editing tools available. Voice Control works for dictation and system commands, and can navigate the entire operating system.
iCloud Drive
Private links to iCloud Drive folders can be shared, letting anyone with access to the link see the folder in iCloud drive and add/edit files. Apple says folder sharing for iCloud Drive is set to roll out next spring, so there's a bit of a wait before it will be available.
Apple Watch Unlocking
With an Apple Watch connected to a Mac running macOS Catalina, the Apple Watch can be used for verification anywhere you need to type your Mac password, like viewing passwords in Safari preferences, unlocking a note, or approving app installations.

To authenticate, you can double-click the side button on your Apple Watch when prompted for a password. Apple Watch authentication needs to be enabled in the Security and Privacy section of System Preferences.
The Apple Watch can also now receive verification codes when you're logging into your Apple ID on a new Mac, iPad, or iPhone.
Privacy and Security
Dedicated System Volume
According to Apple, macOS Catalina is designed to run in a dedicated read-only system volume, separating it from all other data and making sure nothing can overwrite critical operating system files.
DriverKit
With DriverKit and user space system extensions, hardware peripherals no longer need to run their code directly within macOS using kernel extensions. These programs now run separately from the operating system like any other app and can't affect macOS if something goes wrong.
Gatekeeper Improvements
Gatekeeper is designed to make sure that all new apps have been checked for known security issues by Apple before they run on your system for the first time. In Catalina, Gatekeeper's protection extends from checking the app's source to checking what's actually in the app.
Data Protections
macOS Catalina requires express user permission before apps can access data in the Documents, Desktop, and Downloads folders.

Apps must also gain permission to access iCloud Drive, folders from third-party iCloud storage providers, removable media, and external volumes. Permission is also required before an app can perform key logging, capture a screenshot, or capture a video recording of your screen.
Activation Lock
On Mac models with an Apple T2 Security Chip, Activation Lock is now supported. That means if your Mac is misplaced or lost, it can only ever be erased and reactivated with your Apple ID credentials, making it unavailable to thieves.
Restore From Snapshot
When third-party software is incompatible with a new update, macOS Recovery can be used to restore from a snapshot of your computer right before the installation. macOS and apps work like they did prior to the update.
FileProvider API
A new FileProvider API for cloud storage providers lets cloud services integrate seamlessly into the Finder app without a kernel extension, which protects the security of your Mac. Cloud storage providers like Dropbox are also now able to offer apps in the Mac App Store.
No More 32-Bit Apps
In macOS Catalina, 32-bit apps are no longer able to run, as macOS Mojave was the last version of iOS to support older 32-bit apps. Apple has been phasing out 32-bit apps for the last 10 years, but many users may be surprised to find their old apps no longer work when upgrading to Catalina.
macOS Catalina warns when you install it that some apps are not going to work, letting you know which apps need to be replaced.

Apple is ending support for 32-bit apps because 64-bit apps can take advantage of more memory and offer faster system performance. Apple technologies like Metal only work with 64-bit apps, and for Apple to ensure that Mac apps include all of the latest advancements and optimizations, support for 32-bit needs to end. In the simplest terms, 32-bit apps are inefficient.
For more on the end of life for 32-bit apps, make sure to check out our 32-bit app guide.
No More Dashboard
Apple has also removed the Dashboard, a longtime Mac feature that the company has been phasing out for the last few years.
The Dashboard option, first introduced in OS X 10.4 Tiger, used to be a prominent Mac feature, housing sticky notes, a weather interface, a clock, a calculator, and other customizable widgets.
Dashboard disabled by default starting in macOS 10.10 Yosemite, and in Catalina, there is no more Dashboard app at all
macOS Catalina How Tos and Guides
Compatibility
macOS Catalina is compatible with many machines from 2012 and later, though there are some exceptions. Catalina runs on all of the same Macs that were able to run macOS Mojave, with the exception of the mid-2010 and mid-2012 Mac Pro models, which are not getting the update.
2015 MacBook and later

2012 iMac and later

2012 MacBook Air and later

2017 iMac Pro and later

2012 MacBook Pro and later

2013 Mac Pro and later

2012 Mac mini and later
Release Date
macOS Catalina is available to the public as of October 7, 2019.