iPod nano
Apple's mid-range iPod, updated with new colors on July 15, 2015.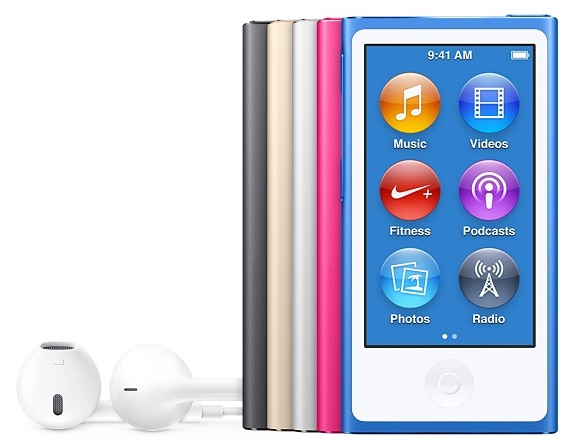 At a Glance
The iPod nano saw its last significant update in September 2012, with several color updates since that time. The most recent color update came on July 15, 2015, with the iPod nano now available in space gray, silver, gold, pink, blue, and red.
Current Specs
$149 for 16 GB
Six color options including (PRODUCT) RED
Current Version

On July 15, 2015, Apple introduced a new color lineup for its entire family of iPods, including the iPod touch, iPod nano, and iPod shuffle. The new color options include space gray, gold, silver, pink, blue, and red.
No other changes were made to the iPod nano, which continues to sell for $149 and offer 16 GB of storage space.
The imminent update to the iPod lineup was revealed several weeks earlier through images discovered within iTunes 12.2 depicting iPods in several shades that did not exist at the time.
In More Detail
Perhaps more than any other iPod product, the iPod nano has been the subject of significant experimentation by Apple, with the company trying out a number of different form factors based on a click wheel interface before moving to an iPod shuffle-shaped design centered around a multi-touch screen and eventually settling on a design more like a miniature iPod touch with the current seventh-generation models released in October 2012.

2015 iPod nano lineup (Product Red version not shown)
The current design includes a 2.5-inch multi-touch screen and a small home button similar to that found on iOS devices, while incorporating 16 GB of storage at a price of $149. The iPod nano does not, however, run iOS and instead runs custom software designed to look somewhat like iOS. The current models support video playback, Bluetooth 4.0 connectivity, and Apple's new Lightning connector, but do not include cameras of any sort.
The September 2012 introduction of the seventh-generation iPod nano included eight different color options: slate, silver, pink, yellow, green, blue, purple, and a special (PRODUCT) RED version.
September 2013 saw only the replacement of the slate color option with a new "space gray" color that was highlighted on the iPhone 5s but also quietly brought to the iPod touch, iPod nano, and iPod shuffle. The July 2015 update saw a more substantial change to the iPod nano's color options, with gold and new shades of blue and pink joining the silver, space gray, and red options carried over from the previous lineup.

Sixth-generation iPod nano
Given its history as a "tweener" device that has appeared to suffer some identity struggles about whether to be a more powerful iPod shuffle with a small screen or a scaled down iPod touch with a mid-sized screen, it is difficult to predict where Apple plans to take the iPod nano next. But with the iPod nano perhaps finding itself a bit with the addition of a home button and multi-touch screen, Apple may opt to stick with the current design for the foreseeable future.
With iPod sales continuing to fall and the iPod nano making up a relatively small portion of that shrinking segment, Apple is also likely to be scaling back investments in product updates, which may lead to the current design sticking around for a number of years, even with the current design now nearly three years old.
During Apple's fourth quarter 2014 earnings call, CEO Tim Cook referred to the iPod as a declining business. Currently, iPod sales make a up just two percent of the company's revenue.
What's Next
With new colors released in 2015 and sales of the iPod lineup continuing to wane as users shift toward smartphones for their audio consumption, we're not expecting any further updates for quite some time. At this point in the iPod's lifecycle, Apple is only making major updates every few years, although there could be an occasional price drop or color change to try to provide a spark for sales volumes from time to time.