Last month's CES saw French wireless tech company Parrot demoing the third model in its Zik range of popular Bluetooth headphones, aptly called Zik 3.0.
Now shipping at a price of $400, the Zik 3.0's inherit the active noise-canceling (ANC), capacitive touch and HD telephony features of the earlier Zik 2.0's, but add some new functions like auto-adaptive ANC and Qi-compatible wireless charging, while they also come in several new colors and textures.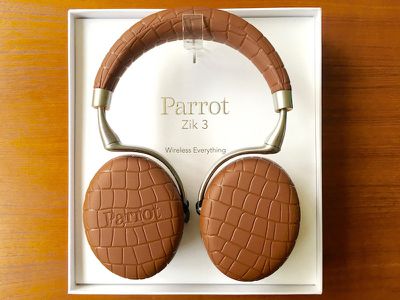 The Zik 2.0's have been reduced from $350 to $200 as a result, so I chose to compare the two versions side by side to see what that extra two hundred dollars gets you.

Design and Comfort
Parrot collaborated with French designer Philippe Starck to define the look of the Zik range, which has seen a few tweaks between iterations but largely kept to its signature soft-cushioned pleather cup, closed-back design. Style-wise they might not be to everyone's taste, but it's clear after wearing them how much thought has gone into the ergonomics.


The arch of the steel sidearms and padded headband on the Zik 3.0's has been increased slightly for extra headspace, but I've found both models provide ample comfort for medium-sized heads, plus there are four adjustable levels of extension that also offset weight from the cups to the headband.
The ear cups themselves have around 45 degrees' freedom of vertical movement below the slender steel rails, which curve over the top and attach to the sidearms on 90-degree, laterally pivoting hinges, making it easy to rest the cups around your neck.
The cushioning material dissipates heat well, given the amount of padding, even after extended wear. And despite any new tech inside, at 270 grams, the Zik 3.0's retain the same weight as the 2.0's and stay just as comfy after three or four hours' use. The only issue I've had with both pairs of Ziks occurs when I'm wearing glasses, as the cups tended to press them against the sides of my head, which begins to ache after an hour or so.

The Zik 2.0's (left) alongside the Zik 3.0's
Like the Zik 2.0's, the outer surface of the right ear cup is touch-sensitive on the 3.0's, with a micro USB port for charging, 3.5mm stereo jack input (both cables are supplied) and power button lining the ridge. Meanwhile the left cup cover snaps on and off for access to the replaceable rechargeable battery.
Performance
What you immediately notice trying out the Ziks are Parrot's attempts to make listening a seamless experience. Taking off the cans and putting them on again automatically pauses and resumes playback, for example. And with the majority of features controlled via the accompanying iOS/Android app, the onboard touch controls try to keep things as intuitive as possible. In practice however, that intention doesn't always pan out.
A tap pauses/resumes playback or takes an incoming call, a vertical swipe adjusts volume and horizontal swipes skip tracks, but oversensitivity can be an issue. An innocent stretch or scratch of the head can easily interrupt playback, for instance.

The Zik 2.0's (left) alongside the Zik 3.0's
The action of swiping the svelte padding also feels faintly unpredictable, and lacks the assured smoothness and feedback of a smartphone screen. After a while though I got used to the Zik's idiosyncrasies and learned to use a lighter touch.
Parrot's 30-decibel ANC processing is best-in-class, beating even Bose's flagship QC25 cans when it comes to filtering out everyday ambient noise. Both Zik models also benefit from a "Street mode" which avoids filtering out vehicles, shouts and other sounds in the same frequency, for an altogether safer commute.
The Zik 3.0's additional auto-adaptive ANC function works great too, and keeps noise to a balanced miminum when transitioning from indoors to outdoors or moving towards or away from a sound source like a TV or radio.


Sadly, battery life hasn't been noticeably improved with the Zik 3.0's and I typically got the same five to six hours' use out of one charge with the ANC and acoustic effects active. That seems fair enough when you consider the tech these cans pack, but poor when compared to the 24 hours' life that can be had out of a pair of Plantronics Backbeats PRO headphones, for example, and exposes the Zik range's continued reliance on the now-aging Bluetooth 3.0 standard.
You can buy an additional Zik battery to switch over to when the active one runs out, but with no proprietary means of charging the spare battery outside of the headset, it's a bit of a lame solution on Parrot's part, although happily standalone Zik charging units are available elsewhere.


Sonically, the Zik 3.0's 40mm neodymium drivers deliver the same stellar performance as the older model's, boasting a clear, assured mid-range, well-defined highs and deep, resonant lows, with bass reproduction that's energetic without being overwhelming.
What's more, audio output can be endlessly tweaked using Parrot's iOS/Android app, once you've paired the headset with your smartphone (many of the following functions can also be controlled via Parrot's app for Apple Watch).

App Integration
The app consists of a series of screens that you swipe to navigate. The Home screen shows the battery level and function status indicators. Next is the noise cancelation screen, which displays the current ambient noise level and visualizes the frequencies in a ringed dial that you can slide a finger over to increase or decrease the amount of active cancelation. You can also activate the Zik 3.0's auto-adaptive ANC via the Auto button.


A second swipe gets you a graphic equalizer "pad" for quick and effective tuning, while another brings you to the Concert Hall screen, where you can play with some fairly authentic-sounding acoustic settings. But it's the last "Producer Mode" screen that tinkerers will enjoy most.


Here you can customize the equalizer signal frequency across five parametric bands and save your adjustments as presets for specific songs, which then activate automatically when you next listen to the track. Alternatively you can try the sizable collection of "featured presets" by various popular DJs and musicians, tuned for use with their own music.


Lastly, if you're using the supplied wired USB cable you can use the app to turn on Flight Mode, which kills all the headset's bells and whistles except for the ANC, for up to 18 hours' battery life.
The level of control the app offers is impressive and the equalizer features are a definite highlight, but after a while I felt like Parrot had missed a trick by not developing corresponding desktop apps, since you have to pair the Ziks with your phone to adjust most of the settings, which is an annoying extra step if you're linked via Bluetooth to your Mac, for example.

Wired vs. Wireless
The new feature of the Zik 3.0's that Parrot likes to tout most is Qi-compatible wireless charging. I tried the headset with two types of universal charger: the Choetech T513 and T517. (Parrot also claims compatibility with Samsung's Wireless Charging Pad.)

Choetech's T517 (left) and T513 wireless Qi pads
Placing the battery-containing ear cup down on the pads activated the glowing red charging indicator light, and 100 percent power was restored from flat in just under two hours, which was about the same time as charging via cable.


The utility of wireless charging is a separate question, but the feature works well enough and at least allows the new Ziks to live up to Parrot's "wireless everything" claim.
Finally, the Zik 3.0's allow you to continue using the headset even when charging via USB. It's a nice addition that reduces listening interruption and lets you experience your music in "Hi-Fi quality" 16-bit/48kHz PCM, provided it's not already in a more compressed format, of course.

Bottom Line
Overall, the Parrot Zik 3.0 headphones feel and sound luxurious, but then so do Parrot's 2.0 cans. Bar the new auto-adaptive ANC mode of the 3.0's, neither did I notice any appreciable difference in noise canceling quality between the two models. But again, the feature was hardly in need of improvement to begin with.
Both headsets also offer the same impressive HD telephony features, with spoken caller ID and clear voice reproduction thanks to the headsets' multiple microphones. In sum, if you can live without auto-ANC, wireless charging and a "Hi-Fi quality" USB listening mode, then save yourself $200 and plump for the Zik 2.0's.
Pros
Comfortable design, even after extended wear
Exceptional sonic performance, bettered via wired USB
Intelligent auto-adaptive noise cancelation
Excellent smartphone app interface
Cons
Underwhelming battery life in wireless mode
Occasionally temperamental touch controls
Feature activation requires smartphone pairing
Hard to justify the extra $200 over the Zik 2.0's
How to Buy
The Zik 2.0 ($200) and Zik 3.0 ($400) headphones and compatible replacement batteries can be bought on Amazon or directly from Parrot's website.
The Choetech T513, T517 and Samsung Wireless Charging Pad are available on Amazon, while the third-party Zut battery charger module can be ordered via the creator's website.
Note: Parrot provided the Zik 3.0 headphones and Choetech provided both Qi charging pads to MacRumors free of charge for the purposes of this review. No other compensation was received.