With the controversial removal of the headphone jack from Apple's upcoming iPhone range a seeming inevitability, audio companies are already ramping up Bluetooth headset options ahead of the devices' launch in the fall.
In June, premium audio heavyweight brand Bose debuted a wireless version of its flagship over-the-ear headphones with the QuietComfort 35's. Not to be outdone, last month Danish audio big hitter B&O entered the fray with its Beoplay H5 Bluetooth buds, a pair of high-end magnetized earphones designed "for music lovers who live to move."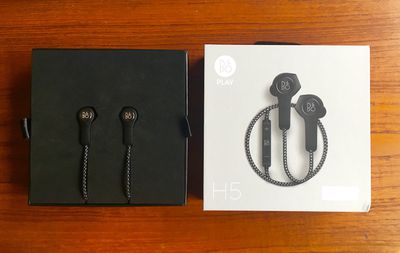 Design and Features
As with most products bearing the Bang & Olufsen moniker, the Beoplay H5 buds aren't exactly cheap at $249, but apart from the luxury brand cachet that comes with them, they promise premium performance in a compact package whatever your lifestyle, designed to segue seamlessly between a fitness routine and a daily commute, for example.


The dust and sweat-proof earpieces are made of a featherweight polymer-rubber compound with a branded aluminum disc on the rear, and each bud has a neck about an inch in length, with the power/pairing LED on one ear.

The buds are connected by a 52 cm (~20 in) cord sheathed in a soft braided textile that sits over the nape of your neck during wear, with an inline remote on the left-hand side and a hidden omnidirectional mic built in for taking calls.


Each earpiece contains a magnet, so you can clasp them together securely for them to rest around your neck when they're not in use. In another neat design feature, clicking the magnets together also auto-powers down the earphones to save battery.
Seven pairs of eartips come supplied – three sizes of Comply Sport memory foam tips offering a malleable seal, and four sizes of standard silicone molded tips.


Also included in the box are cable clips, a carry pouch, a quickstart guide, and a unique magnetized "cubic charger" with two molded recesses that the earpieces snap into, with a cable running out the rear with a USB connector attached.
The earbuds connect to a source device using the latest version of Bluetooth (4.2) and support high-quality AAC and aptX codecs – only newer MacBooks, not iPhones, support the latter as of writing.


Audio output can be adjusted via the easy-to-use Beoplay iOS (or Apple Watch) app, which offers four presets for different activities (workout, commute, clear, podcast) and a 'Tonetouch' graphical equalizer to customize the sound further.
Once you've adjusted the output to your liking, you can save the audio profile directly to the earbuds, allowing you to set and forget. If you're an Apple Watch wearer, you can choose between presets from your wrist, too.

Performance
Pairing the buds was a one-click affair of the power button on the inline remote, and the volume buttons proved to have the typical dual-functionality for moving between tracks, with the power/pair button also taking and ending calls.
Out of the box, the H5's sound decent enough, offering a flat, natural reproduction and a close, friendly soundstage. Treble was a tad too crisp at times, but with a bit of adjustment via the accompanying app it was easily dealt with, and once I had a custom profile set, they really came into their own.
The controlled bass and clearly defined mid- and high-range detail of the H5's serve rock, hip-hop, and instrumental genres extremely well, with jazz tracks reminding me of Vibe's eminently balanced Brass Ba11 buds and their intimate, inclusive sound. As for the mic, it had no trouble picking my voice out over the din of a typical commute on public transport.
The earphones remained comfortable to wear, whether I was working out or casually listening to music, although the left earpiece had a habit of slowly loosening when I was on the move which broke the insulating seal and let sounds leak in from outside.


That got annoying after a while, so I switched to the Comply eartips and chose a larger left tip (I have odd-sized lugholes, apparently) which solved the problem.
I loaned the H5's to a friend who complained that the left bud kept flying out of her ear during a high-intensity exercise routine due to the added weight of the inline remote, even after she swapped the tips for a bigger size. I couldn't replicate the issue myself using the memory foam tips and the buds stayed securely in place whatever I was doing, but this should serve as a warning to potential buyers.
I was underwhelmed by the stated five-hour battery life of the H5's (confirmed in my own tests) given that buds in Jaybird's wireless range offer up to eight hours' listening time, but in practice I only wore the H5's two hours a day on average and it wasn't a huge inconvenience to charge them for a couple of hours every other night – your mileage may vary.

Bottom Line
$250 earbuds will be a hard sell for many people. Personally I couldn't justify it, but if you have the spare cash and are fond of luxury kit, then I suppose it's not a deal breaker. Overall, the Beoplay H5 earphones are a lovingly designed, solid bit of kit. To be fair, it's the least I'd expect at this hefty price, and happily they deliver.
The magnetized buds and auto-off feature are signature B&O design wins, as is the supplied charging cube – it's just a shame the charge doesn't last a few hours longer. I'd also advise to be careful not to lose the charger; it's not like you'd be able to replace it with a standard micro-USB cable, as with some other wireless buds.
My only real design gripe was with the inline remote – its surface smoothness made it hard to find which was which volume control when out of my line of sight. After a while though, I became familiar with the layout and it became a non-issue.
Sonically the H5's are rich, well-balanced, and pack a satisfying punch, and with some subtle audio profile manipulation you can easily adjust the output to your musical taste. Still, this is a significant investment, and for that reason I'd recommend you try the buds before you buy, even if that's just to see if the tips play nice with your earholes. If they sound great and sit securely – and you can live with the middling battery life – then this luxury wireless headset could be an ideal match for your iPhone, headphone jack or no.
Pros
Slick, comfy, considered design
Plenty of supplied eartips to choose from
Decent built-in mic and excellent audio output
App presets that make a difference
Cons
Battery life isn't spectacular
Inline remote mold unhelpfully smooth
Achieving a secure eartip fit may be an issue for some
Very expensive for earbuds

How to Buy
The Beoplay H5 earbuds cost $249, are available in black or dusty rose, and can be ordered on the B&O PLAY website.
Note: B&O PLAY provided the H5 earphones to MacRumors free of charge for the purposes of this review. No other compensation was received.